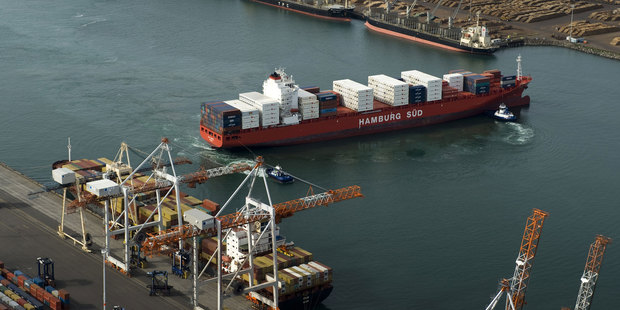 The Port of Tauranga said its underlying group net profit rose by 1.3 per cent in the year to June 30 to a record $78.3 million thanks to an increase in bulk cargo offsetting a 10 per cent decline in container volumes.
Container volumes fell 759,587 twenty foot equivalent units (TEUs) from 848,448 TEUs in the prior year, primarily due to the loss of the Maersk Southern Star service.
The service resumed its Tauranga calls in August and, based on previous container volumes associated with this service, the port expects it to deliver an additional 70,000 TEUs a year.
The company's bottom line profit fell by 30.2 per cent to $78.3 million from $112.1 million a year earlier, mostly reflecting a $34.9m gain from the sale of an associate in the prior year.
Read also:
• Port of Tauranga deal to bring big ships
• Restructuring boosts earnings at Ports of Auckland
• Second port to rival Bay for big ships
• Cruise line business reaching 'tipping point' in NZ
Group earnings before interest, tax, depreciation and amortisation increased by 5.5 per cent to $142.5 million from $135.0 million.
The board declared a final dividend of 29 cents per share, lifting the full-year, fully-imputed dividend to 50 cents per share, representing an 8.7 per cent increase over the prior year's dividend of 46 cents per share.
Total cargo volumes rose 3.5 per cent to more than 19.7m from 19.1m tonnes a year earlier.
Port of Tauranga chairman, David Pilkington, said the financial year represented a watershed for Port of Tauranga after the company took a 50 per cent stake in PrimePort Timaru and took control of its container terminal, began the development of a new freight hub in Christchurch and struck an alliance with freight management and logistics provider Kotahi.
Chief executive, Mark Cairns, said the company's subsidiary and associate companies generally delivered strong results despite some tough challenges.
He said that net debt at $255m and gearing at 29.7 per cent gave the company capacity to fund the $50 million expected to be required to dredge Port of Tauranga's shipping channels.
Dredging was due to commence in 2015 and the alliance with Kotahi would help ensure that an acceptable return was achieved from the investment, Cairns said.
Shares in Port of Tauranga last traded at $15.40, up 10c on Wednesday's close.

Read the full presentation here: