Pioneering Kiwi avatar technology can read passengers' moods
An airport kiosk avatar that can tell how stressed passengers are at check-in and talk them through the process is being developed in Auckland.
An Oscar winning animation expert and an airport logistics company hope to roll out within a year a "personal avatar assistant" whose technology can read facial expressions and tailor its response to suit.
Self check-in kiosks are being installed rapidly at airports around the world as they are quicker at processing passengers and take up far less space than traditional counters.
Technology company BCS Group is teaming up with Limbic, (a commercial spinoff from research being undertaken at University of Auckland's Laboratory for Animate Technologies), whose founder Mark Sagar has won two Academy Awards for his effects work at Sir Peter Jackson's film studio Weta Digital.
Last year he demonstrated an interactive avatar called Baby X at the TEDx science and technology conference in Auckland.
BCS manager of services and solutions Marc Michel said self-service kiosks were often criticised as removing the human element at airports.
"You're interacting with a piece of software that is only capable of canned or limited responses," he said.
The planned avatar - which would be in both check-in, built by another company, SITA, and bag drop kiosks - would be able to assess emotions using 3D depth cameras and directional microphones that would feed it information.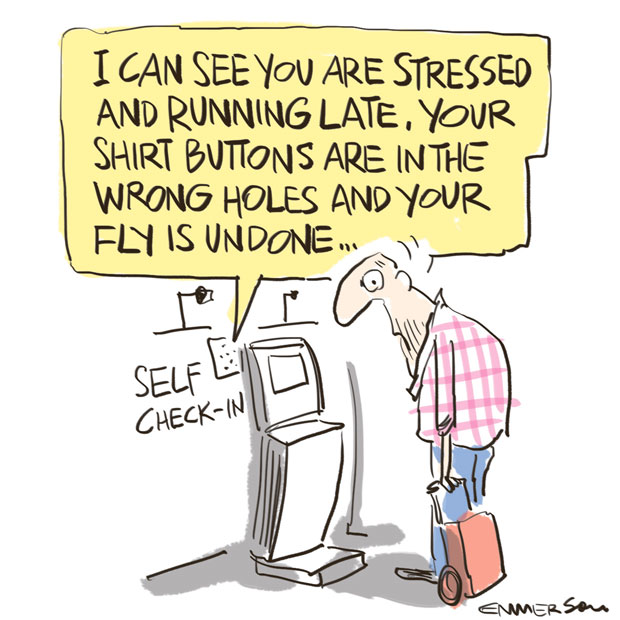 Illustration / Rod Emmerson
"You get a virtual person whether it be male or female for your particular airline who is able to detect emotions and understand to some degree the state of the person using the application," Michel said.
If a passenger is tense the avatar would be more formal.
"If it detects you're stressed it will probably be more businesslike, if it detects you're on holiday it could be a bit more chatty, talking about your destination. There's limitless possibilities."
An airline would be able to customise the uniform and look or have a more generic look if it was on a kiosk shared by a number of carriers.
He said the International Air Transport Association was aiming to have 80 per cent of check-ins done by passengers themselves by 2020.
"We partnered with Air New Zealand back in 2007 when they first developed their revolutionary check-in system, and have continued to evolve and innovate the solution to the point that we have now taken it global," Michel said.
"This is another testament to Kiwi innovation leading the world, another great NZ innovation that could change the whole airport travel experience."
Sagar's work at Limbic follows on from his role as special projects supervisor at Weta, where he worked on movies including Spider-Man, King Kong and Avatar.
The avatar work would be helped by $2.4 million of funding from Callaghan Innovation.
BCS has installed its bag drop kiosks in Brisbane, Melbourne, Singapore and is about to roll it out in Beijing.
Michel said other countries had stricter rules about bag drops than New Zealand.