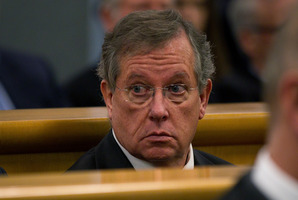 Failed finance company boss Owen Tallentire has been granted parole and was described as a "model prisoner".
Tallentire was sentenced to six years in prison after being found guilty of theft by a person in a special relationship and pleading guilty to misleading investors.
The 67-year-old had been chief executive of Capital + Merchant Finance, which owed investors $167 million when it collapsed in November 2007.
His co-offenders, Wayne Douglas and Neal Nicholls, are serving longer sentences than any other person in a failed finance company case to date.
Tallentire earlier this month came up before the parole board, which said he clearly met the criteria for release on parole.
He is described as a "model prisoner", the parole board's decision said.
"He is assessed as low risk and in all respects has done extremely well whilst in prison," the decision said.
"At his age he is a superannuitant with no assets. He does not intend to enter the workforce...," the decision said.
He was granted release on the conditions that he not start work before getting approval from a probation officer and was prohibited from being employed in a role where he was managing money or holding "any fiscal responsibility".
He is not allowed to communicate with victims of his offending - failed finance company investors - or to get in touch with his partners in crime, Douglas and Nicholls.
The conditions are imposed for the next two years.