Financial troubles threaten future of airline rocked by two disasters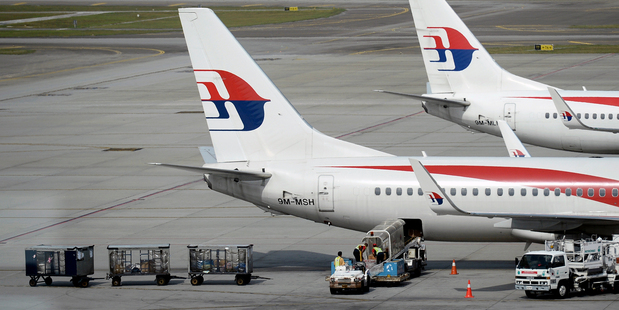 The Malaysia Airlines website has gone dark.
In keeping with airline practice after a crash, the airline's special "dark site" is free of logos and the imagery of its standard home page. There are no daily deals at this time, just sombre statements from airline heads on the the loss of MH17 over the Ukraine and updates on the aftermath of the crash.
The seriousness of the message is clear but the fate of Malaysia Airlines remains uncertain. And while it's the taxpayers of that country that face bearing the greatest burden, New Zealand travellers should be interested.
Options for the loss making airline include full nationalisation, merging with another carrier and, no matter what, a rebrand.
Malaysia Airlines has for several years been in deep financial troubles, losing US$370 million ($431 million) last year, before this year being rocked by the loss of two planes at the cost of 537 lives.
It has been flying to Auckland for the past 25 years and now has daily services to Kuala Lumpur with most New Zealand travellers flying on to Europe.
While in the second tier in terms of capacity, it fills an important role, says Flight Centre, by keeping prices down.
"They do their bit in this part of the world, they've been important especially pricing-wise and keeping other people honest," said Simon McKearney, general manager of product for Flight Centre.
There were no issues with Malaysia Airlines planes and service and it was considered safe prior to the MH370 incident, he said.
The shooting down of Malaysia Airlines Flight 17 last Friday over Ukraine happened just over three months after Flight 370 disappeared on a flight from Kuala Lumpur to Beijing. Searchers are still looking for that plane on the floor of the Indian Ocean off the coast of Australia.
Malaysia Airlines had given travellers a week to claim full refunds.
Agents here report between 5 per cent and 10 per cent of passengers taking up the offer, amounting to a few hundred seats, but McKearney said there had not been a stampede to take it up at Flight Centre.
"It's hard to know whether people are wanting to get off but have no other option. If you've planned a trip you're going to take a trip with all your hotels locked in."
McKearney doubted heightened sensitivity about air safety would keep New Zealanders off planes or force them to stick close to home.
"New Zealanders are particularly resilient. We're so far away we have no choice."
After previous high profile aviation horrors — such as the 9/11 terror attacks — air travel had dipped for a matter of weeks and then recovered strongly.
Geoffrey Thomas, editor of AirlineRatings.com, said other carriers with a strong reputation for safety flying in this region could benefit from perceptions of Malaysia Airlines' record.
Airlines are reluctant to discuss any positives from a rival's crashes but he said there could be a "flight to safety" to airlines such as Air New Zealand, Qantas, Cathay Pacific and Emirates, he said.
"What will possibly happen is that passengers will tend to move to airlines that have a perfect safety record in the past 30 to 40 years. I see them getting a bit of a spike in bookings."
New routes to avoid trouble areas would add costs to flying in those regions.
"Airlines are saying it won't cost very much but it may — it depends on a lot of factors including congestion. You might find yourself held on the ground at Heathrow because of congestion over Romania."
Although airlines would be more explicit about where they would fly their own aircraft, passengers needed to know where they flew on other carriers' planes as part of code share arrangements.
Thomas said that not since Pan American World Airways lost four Boeing 707s in 10 months in the mid-1970s, killing over 200 passengers, has an airline's reputation been so devastated by air disasters. But the loss of two Boeing 777s in five months was far worse in an era where major air crashes are rare and media coverage instant and comprehensive. Crashes in Taiwan and North Africa this week have cost another 158 lives, and after years of generally improving statistics it's turning out to be a horrible 2014 — the year a century of passenger flying is being marked.
But Thomas points out that air travel is "incredibly safe" with 100,000 flights a day carrying 8.3 million passengers.
"But those reassuring numbers are meaningless for travellers contemplating a trip."
Thomas said Malaysia had handled the MH370 loss badly and this had harmed the airline whose operational side has always been impressive.
What now for the airline?
Earlier this week, in a message of thanks to New Zealand and Australian travel agents, it pledged its commitment to this region.
The airline said Australasia was a key market and that its government-owner is committed to ensuring its long-term future as the national carrier, and that's where its future lies. There is increasing speculation that the Malaysian Government will buy out the remaining 31 per cent it doesn't own, through the state-run Khazanah Nasional sovereign fund and take the company private.
As with Air New Zealand in 2001, the airline is seen as too important to the country's national interest to let fail. It provides key internal and regional links and brings in tourists, one of Malaysia's most important sources of export revenue.
Status quo is not an option.
"In the current form, I firmly believe Malaysia Airlines won't be able to survive," Mohshin Aziz, an analyst at Malayan Banking, told Bloomberg. "They will largely exhaust all their capital and won't have any money left to continue flying by the middle of next year."
Hong Leong Investment Bank analyst Daniel Wong questioned whether the airline will have the funds to endure two disasters in just four months. In the first quarter of 2014, MAS had a cash-flow loss of US$110 million and US$726 million in cash on hand. Those dismal numbers included two months before the first disaster, the disappearance of MH370, began hurting business.
"With the expected worsening load factor and lower yields for the remaining 2014, we believe MAS may need to raise fresh capital to keep MAS afloat by 2015," said Wong.
Other possibilities include a massive rebrand in the same way Swissair did in the early 2000s when it was struggling with crippling debt and a crash off the coast of Nova Scotia in 1998 killing all 229 aboard.
A merger with another airline is a possibility, but reported interest by Etihad Airways earlier this year appears to have cooled.