Kiwi dairy giant sees opportunities as Europe moves to deregulate sector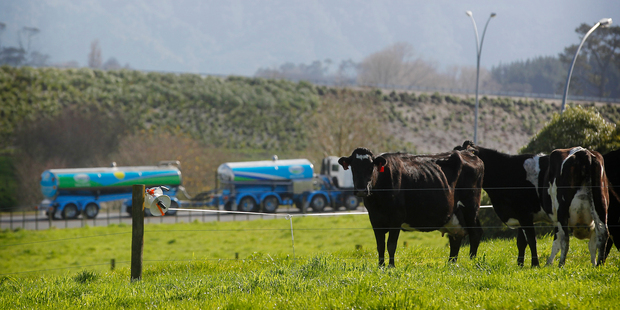 Big changes lie ahead for the international dairy trade when the European Union (EU) dismantles its 30-year-old quota system next year.
Quotas, introduced in 1984 to tackle overproduction, are due to come off next April, which will mean each of the 28 EU member states will be free to produce as much dairy product as they want.
As a result, Fonterra expects EU dairy production to increase by 1.5 to 2 per cent over time, but the co-operative's chief financial officer Lukas Paravicini said it was a welcome move.
"We obviously welcome free trade agreements and free trade in general. Therefore we support the elimination of quotas," said Paravicini, who joined Fonterra last year after 22 years with Nestle.
As it stands, only six or seven of the EU's more efficient producers, who tend to be the northern European producers, are expected to increase their production. The other, less efficient producers, are within their limits or well below them.
Germany is the largest producer, followed by the Netherlands, Denmark and Poland. Ireland is not a major producer but has ambitions to increase its production by 50 per cent over the next eight years.
The EU's Common Agriculture Policy (CAP ) has been reformed to make the farming sector more market-focused and responsive.
With quotas, Europe had been artificially constraining its ability to meet demand because the most efficient producers, the most likely to export, were not able to grow their production.
Fonterra's view is that anything that improves the transparency of international pricing of dairy product is a move in the right direction, even though the most likely outcome will be increased production coming on to the market and more competition.
EU milk production is likely to be driven by the most efficient producers in Europe, but growth rates will vary considerably from country to country.
For Fonterra, Europe is not the market that it once was, but it sees itself as well-positioned in the European milk "pool" thanks to its investments there.
As an example, Fonterra last year formed a joint venture with Netherlands-based A-ware Food Group to develop a new cheese plant and dairy ingredients plant in Heerenveen. A-ware will operate a cheese plant and Fonterra will operate a dairy ingredients plant alongside it.
But as Fonterra sees it, the global dairy story is still a positive one for all exporters due to the growing per capita demand for dairy products in many large and fast-growing emerging markets. In terms of export proportion, New Zealand and Europe are almost exact opposites.
In New Zealand, about 95 per cent of dairy production is exported while in the EU, about 90 per cent is consumed domestically, with the rest exported.
Paravicini saw opportunities as the EU deregulated its dairy sector. "We think that there is enough demand in the long run for all this milk and we are well positioned to leverage these different pools and connect them with the right demand pool, so we don't see this as a problem going forward for us," he said.
Francis Reid, Fonterra's Amsterdam-based policy and advocacy manager, said removal of quotas was "the final piece in the puzzle" in terms of reforming the common agriculture policy in Europe for dairy.
Quotas out
• European Union is ending its 30-year-old quota system.
• Introduced in 1984 to tackle overproduction.
• Fonterra expects EU dairy production to increase by 1.5% to 2% over time.
• Co-operative welcomes the move as removing market distortions.