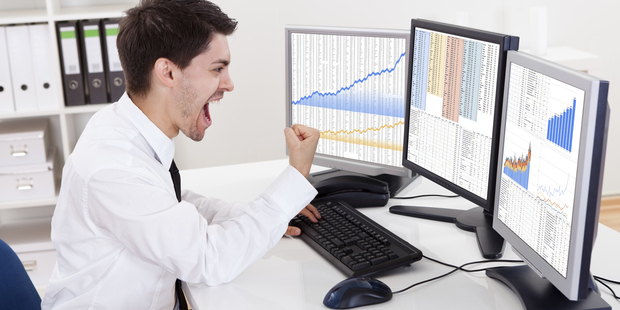 There is a common myth that traders have, or think they have, some kind of crystal ball to show them where the markets are heading next. We hear statements like "if it was that easy, everyone would be doing it". That statement is probably true but it involves an inference that someone originally said trading was easy.
Sadly, we traders do not have a crystal ball and no accomplished trader would ever claim that trading is easy. These myths come from elsewhere. Most traders fail to make money, that is a fact. But, there are many reasons for that and the traders that win have a lot in common, as do the traders that lose. Let's start with some characteristics of the losers...
Characteristics of Losing Traders
One of the biggest reasons that people lose money trading is that no experience is required to get started. It's easy, within 10 minutes, most people can have an open and funded trading account.
The lights are flashing green and red, the prices are moving and those big SELL/BUY buttons look oh so enticing. But, not many people start making money straight away, that's as likely as me picking up a rugby ball for the first time and playing for the All Blacks soon after.
There is an apprenticeship to be attained, a new profession to be learned, a language to be understood and on top of the theory which is still most often skipped by new traders, there is the school of hard knocks to get through to really earn your status as a winning trader, not just a 'wannabee'.
Losing traders try to get rich quick because of this fallacy that trading is going to be easy. This means that risk management goes out the window and fast losses are inevitable. I hate to see it but this is what happens with so many new traders. They open an account with no experience and dreams of getting rich quickly, start pressing buttons and lose money fast.
Characteristics of Winning Traders
Winning traders have experience first and foremost. They have put in the hard yards to get to this point and it did not happen to any of them on day one. To others this success often appears "lucky" or like they have that magical "crystal ball" discussed earlier. If only! Many years of effort getting through the highs and lows in any profession is what results in the good fortune when the stripes have eventually been earned.
Winning traders think in terms of probabilities. This means that the result on any given trade or any small sample sets of trades is largely random. Just because you have 4 winning trades in a row does not mean you are a great trader. Equally just because you have 4 losing trades in a row does not mean you are a bad trader and need to change things.
The absolute minimum sample set that statisticians say is required to look for a trend is 20. This means that we should evaluate our trading results over a minimum 20 trades but ideally over 100 or even 1000 trades to really prove our track record.
Changing things after a few winners or losers is am amateurs game, winning traders have their eyes on the bigger picture and a much larger sample set.
Winning traders know that good things take time and they have patience on their side. Looking at the bigger picture and making money slowly is the key. They manage their risk for this very reason and make sure that the downside is strictly limited in both good times and bad.
I cannot speak for every trader but when I lose on a trade, I lose a maximum 1 per cent of my trading capital. Most good traders I know are there or thereabouts with their risk management rules. How much do you think the average losing trader, trying to get rich quick is risking per trade? Much more I can promise you! I meet them all the time and they ask me the exact same question, "how can I get rich risking just 1 per cent?"
If you don't see the irony in that question then trading is probably not for you. If you can see the answer clearly and understand the big picture then you are starting off on the winning track. Now the key is to learn hard and stay there. The earning in trading comes after the learning. It is the same as any other way to make money.
Nick McDonald is a New Zealander teaching everyday people how to trade the worlds markets via his company Trade With Precision.