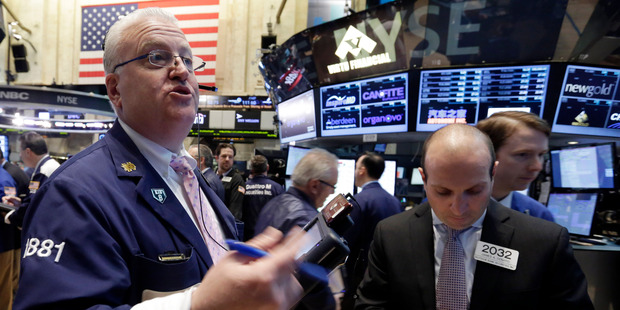 Wall Street fell overnight as disappointing earnings from Wal-Mart and a surprise drop in US industrial production exacerbated nervousness about equities trading near record highs.
With about an hour of trading left in the day in New York, the Dow dropped 1.20 per cent, the Standard & Poor's 500 Index shed 1.06 per cent, while the Nasdaq Composite Index sank 0.98 per cent.
Slides in shares of Wal-Mart and Chevron, down 2.3 per cent and 2.2 per cent respectively, led the decline in the Dow.
Bucking the trend, shares of Cisco jumped 7.1 per cent, for the largest gain in the Dow. The company predicted fourth-quarter profit and sales that surpassed expectations.
Cisco's latest quarterly revenue fell less than expected, underpinning optimism it is making progress on turning its business around.
"I'm pleased with our performance in [the third quarter]," John Chambers, Cisco's chief executive officer, said in a statement. "Our financial results exceeded the guidance we provided last quarter as we demonstrated clear progress on returning to growth."
Shares of Wal-Mart, however, dropped after the world's largest retailer provided an outlook that fell short of the mark.
"Like other retailers in the United States, the unseasonably cold and disruptive weather negatively impacted US sales and drove operating expenses higher than expected," Doug McMillon, Wal-Mart's chief executive officer, said in a statement.
Kohl's was another retailer with disappointing earnings, which sent its shares 3.1 per cent lower.
The latest economic data provided confirmation of the view that the pace of US growth is accelerating. Jobless claims dropped 24,000 to a seasonally adjusted 297,000 last week, the lowest in seven years, while a separate Labor Department report showed the consumer price index rose 0.3 per cent in April, up from 0.2 per cent in March.
To be sure, a Federal Reserve report showed that industrial production unexpectedly slid 0.6 per cent in April, following an upwardly revised 0.9 per cent increase in March.
"It's still consistent with the view that the economy is going to show stronger growth in the second quarter," Josh Feinman, chief global economist at Deutsche Asset & Wealth Management in New York, told Reuters. "The underlying momentum is improving but it's not definitive."
In Europe, the Stoxx 600 Index ended the day with a 0.9 per cent slide from the previous close. The UK's FTSE 100 gave up 0.6 per cent, Germany's DAX weakened 1 per cent, while France's CAC 40 dropped 1.3 per cent.
Here, a report showed the euro-zone economy grew a lower-than-expected 0.2 per cent in the first quarter from the previous three months, underpinning expectations the European Central Bank might cut interest rates next month as suggested last week by the central bank's president, Mario Draghi. The Dutch economy shrank 1.4 per cent, the largest contraction in the euro zone.
"The recovery is still more or less in train in most countries, but the headline number is disappointing and the horror show was the Dutch number," Richard Barwell, an economist at Royal Bank of Scotland Group in London, told Bloomberg News. "We think the ECB is going to act in June, and we think it will be a package of measures."