Access to information sought to determine independence of Crown expert witness.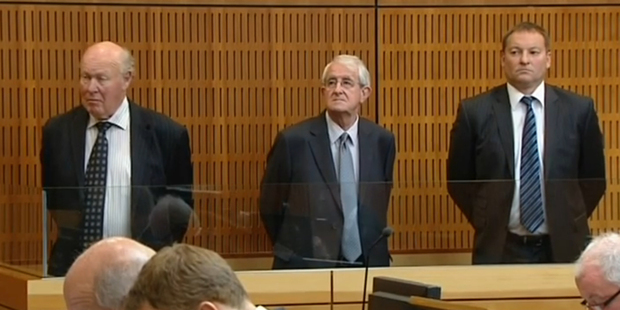 Three South Canterbury Finance principals accused of dishonest conduct have been denied access to invoices and correspondence between the Serious Fraud Office and one of its expert witnesses.
Some of the documents were sought so the trio - former SCF chief executive Lachie McLeod and two of the company's former directors, Edward Sullivan and Robert White - could determine if there was anything done by the witness that would put his independence as an expert into issue.
McLeod, Sullivan and White face a mix of charges brought by the SFO, including theft by a person in a special relationship, false statements by promoter, obtaining by deception and false accounting.
Their trial at the High Court in Timaru began in March and is expected to run for between 12 and 16 weeks.
At the end of last month Sullivan - with support from his two co-accused - applied for orders for more disclosure from the prosecution.
Sullivan applied for disclosure of all invoices rendered by advisory and investment firm Korda Mentha relating to any investigation into South Canterbury Finance, including invoices to the Serious Fraud Office and law firm Meredith Connell.
Korda Mentha forensic accountant Grant Graham is being called as an expert witness for the Crown.
Sullivan also wanted access to documents and correspondence that went between the Serious Fraud Office, the Crown, Meredith Connell and Graham or KordaMentha. He also asked for the disclosure of all correspondence between the Serious Fraud Office, the Crown, Meredith Connell and any witness or potential witness in the South Canterbury Finance investigation or trial.
Sullivan's Queen's Counsel, Pip Hall, told trial judge Paul Heath that the order was required because the Crown had not disclosed all relevant information to the defendants.
Hall said the Korda Mentha invoices were required so that the accused could determine whether there was any activity done by Graham that would put his independence as an expert witness into issue.
Crown lawyer Nick Flanagan told Justice Heath all relevant information had been submitted and said there was no obligation to provide invoices of the type sought by Sullivan.
Justice Heath said he was not prepared to order the disclosure.
"Mr Graham appears to have been frank in identifying the range of appointments that he has undertaken with regard to South Canterbury, and impact of those various roles on his independence can be explored fully in cross-examination. Should anything emerge that casts doubt on his independence it would be open for the accused to make a further application ... ," Justice Heath said.
The judge also dismissed the application for disclosure of the correspondence.
"There is no evidence before me to suggest that the Crown has attempted to suborn the testimony of a potential witness," he said.