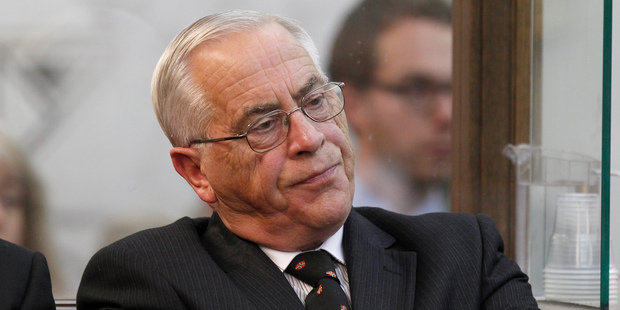 Sir Douglas Graham and other Lombard directors will be pleased the Supreme Court reduced their sentences yesterday but disappointed it didn't look again at whether they should have been convicted, says their lawyer.
Graham, former Justice Minister Bill Jeffries, former PR man for the Queen, Lawrie Bryant, and Lombard director Michael Reeves were convicted of making untrue statements in company offer documents before the firm's failure.
The four men sought to overturn their convictions in the Court of Appeal, while the Financial Markets Authority argued the sentences of community work the men received were inadequate. The Court of Appeal upheld the convictions and imposed tougher sentences of home detention on the men.
But yesterday the Supreme Court said these sentences were too harsh and the original sentences from the High Court were to be restored. "The sentences of home detention which were eventually imposed were dependent on imprisonment otherwise being appropriate," the decision said.
The Supreme Court unanimously reached the view jail time was not an appropriate sentence for the offending. The judges noted the defendants had taken their reponsibilities seriously, took advice and Lombard in general was "properly run".
The defendants' level of culpability - in releasing a prospectus which had untrue statements about liquidity - was that of misjudgment.
"It is not easy to think of cases from any area of criminal law in which imprisonment has been seen as an appropriate response to offending where culpability arises out of a misjudgment by people who took their responsibilities seriously and where the consequences have been economic and have not involved physical injury or death," the court's decision said.
Lombard investors were owed $125 million when the company collapsed in 2008, some months after the release of the offending prospectus. But Lombard would probably have gone into receivership even if a prospectus had not been issued or or had been issued on different terms.
Read today's Supreme Court decision here:

"For this reason, it is difficult to be confident that the actual losses caused by the [directors'] offending much exceeded the $1.7 million of new money which was invested during this period [less any recoveries which may be made]."
Graham did not return calls yesterday but Queen's Counsel for the defendants, Jim Farmer, said he and his clients were pleased with the result. "But still disappointed that the Supreme Court wasn't prepared to review the original convictions."
While the Supreme Court had given the four men leave to appeal their sentences, it did not give leave for them to appeal their convictions.
Asked if the directors still didn't believe convictions should have been entered against them, Farmer said: "I think that would be a fair statement. As their lawyer, but trying to be objective as I can, I actually think those convictions were wrongly entered, too."
Original sentences
Doug Graham: 300 hours of community work and reparations of $100,000.
Lawrie Bryant: 300 hours of community work and reparations of $100,000.
Bill Jeffries: 400 hours of community work.
Michael Reeves: 400 hours of community work.