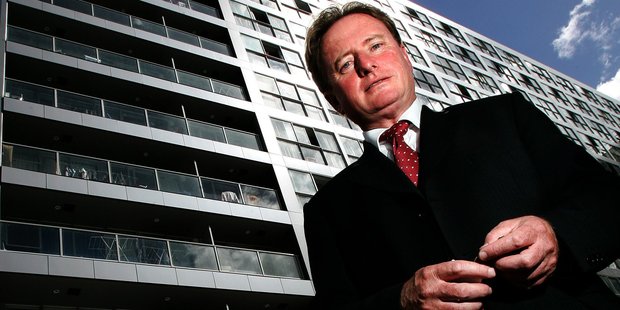 A real estate agency boss has backed a call this week by finance minister Bill English to relax rules designed to stamp out so-called "shoebox apartments", saying these could help first-home owners get into the market if they were still being developed.
Martin Dunn of apartment specialist City Sales opposed Auckland Council rules on minimum apartment and balcony sizes.
"Bill English's criticism about the council requirement for minimum apartment sizes and their attendant construction cost is on the money. With new build costs meaning developers charging $7000/sq m to $10,000/sq m, a new 40sq m one bedroom unit starts at $280,000.
"Residents and tenants are happy residing in suites half that size, meaning new stock could be offered at say $150,000 to $200,000, getting first home buyers onto the property ladder," he said.
English this week laid much of the blame for rising property prices at the feet of local governments and their planning departments.
"It is now difficult to build some types of affordable housing in our least affordable cities," English said, citing planning rules in Auckland dictating a minimum apartment size of 40sq m and balconies be at least 8sq m. These rules added around $80 a week to the rent on such dwellings, he said.
Auckland Council cracked down on shoebox places, after last decade's inner-city unit boom created some places smaller than prison cells.
Dunn called for a mixture of options and said he had argued for that last decade as well.
"If the city was flooded with such dormitory style complexes of such size it would start to affect the culture of the city. My request was not a criticism of the size of the suites but the obvious mono-culture of such huge complexes. I asked that the council stop allowing developers to build apartment buildings with their decks to the boundary so that the next building had balconies that literally touched the neighbours. The planners got that right and stopped this practice although with a few embarrassing legacies," Dunn said.

APARTMENT RULES
MINIMUM SIZES
# Studio.................................35sq m
# 1 bedroom..........................45sq m
# 2 bedroom..........................70sq m
# 3-plus bedroom.................90sq m
OTHER RULES
# Windows to be at least 20 per cent of floor area of exterior rooms.
# Limits on the number of studio and one-bedroom units in any one development
(Source: Auckland City Council anti-shoebox measures of 2007)