Fund manager describes deal as puzzling and $92.6 million cost as a `very full price with significant risks'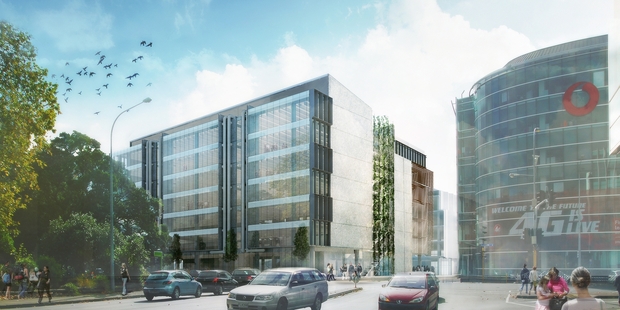 Investors were unimpressed with giant listed landlord Goodman Property Trust which announced its $92.6 million purchase of the planned new Fonterra headquarters at its half-year result yesterday.
Shane Solly of Mint Asset Management said the Fonterra deal had drawbacks because the trust would not own the land but was only leasing it which could depress returns from the big investment.
"It's a good building with a good tenant, just a very marginal return on a leasehold property for unitholders," Solly said.
Matthew Goodson of Salt Funds Management was not delighted.
"It's a very full price with significant risks," he said of the purchase. "For unitholders, the best way to describe it is puzzling that they did it and how they can make it add up," he said referring to the leasehold land, cost of capital and the trust's inability to control leasehold payments on the Viaduct Harbour Holdings' site.
The half-year result was consistent and as expected, Goodson said.
John Dakin, Goodman chief executive, defended the deal.
"There's a perception that all leasehold is bad but I don't accept you can't mitigate and manage that risk. If you want to be in that part of town, that's the form of land tenure you need to deal with," Dakin said, refusing to reveal annual leasehold payments.
"We're bound by confidentiality," Dakin said.
Another investor was sceptical about the prospects after upbeat comments from chairman Keith Smith on the half-year result.
"Interesting that the chairman says the board is encouraged by the strong financial result. Despite the headline saying profit almost doubling, earnings per unit have gone from 4.07c to 4.18c - that is a gain of [only] 2.7 per cent, a pretty underwhelming performance really," he said.
Goodman made $65.4 million net profit after tax in the half-year to September 30, 2013, up 107 per cent, and said it had bought the planned development which will rise between Fanshawe St and Halsey St.
An office supplies building there is being demolished and the rest of the site has been used for carparking.
Fonterra has taken a 15-year lease with two eight-year rights of renewal.
Goodman said the purchase price reflected an initial cash yield of 8 per cent and the site was well-placed between its Air New Zealand building and the Viaduct Corporate Centre where Vodafone's offices are.
Smith said Goodman was pleased to build a relationship with Fonterra and Dakin said the development provided a unique opportunity to invest in one of Auckland's most strategic real estate locations.
"With a long-term lease to a high quality customer, the acquisition will enhance the trust's wider portfolio," Dakin said.
Theo Spierings, Fonterra chief executive, said the farming co-op was closely linked to the land so it was important the design reflected an environmentally conscious approach.
Fonterra HQ
• 16,000sq m 7-level building to rise near Wynyard Quarter.
• Part of a bigger 25,000sq m project on site.
• To be built by Fletcher Construction.
• 15-year lease with two 8-year rights of renewal.
• On Viaduct Harbour Holdings' land opposite Victoria Park, Vodafone HQ.
• Development to be owned by Goodman Property Trust.
• More than 1000 staff to work in the new HQ.
• Fonterra staff will leave Princes St HQ in CBD and elsewhere.