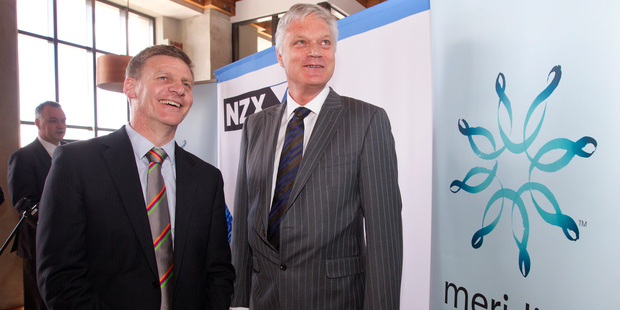 Shares in New Zealand's largest electricity company Meridian Energy debuted on the NZX at $1.08 - 8c above the initial $1 paid by investors.
The shares were issued at $1.50 each but under the instalment receipt mechanism adopted by the Government to boost interest in the partial float, investors paid $1 initially and will pay a further 50c in 18 months time.
Speaking at a function at NZX's Wellington headquarters for the company's market debut, Finance Minister Bill English said the Government's share offer programme was important to add depth and vitality to the local sharemarket while it also freed up cash for the Government to invest in priority public assets without having to borrow.
State Owned Enterprises minister Tony Ryall said the float was "a sign of real confidence in the NZ economy".
"Today's listing adds to the momentum, it's a great milestone for Meridian and marks an new beginning for the company.
The fact it would now operate under the scrutiny of the Government which retains a 51 per cent stake and retail and professional investors meant "the incentives to manage the business well will be sharper than ever".
Ryall also took a swipe at Labour and the Greens whose proposal for electricity market reform is blamed for affecting demand for shares in Meridian and Mighty River Power which was partially floated in May.
"In spite of the best efforts of some, the Government is very proud that Meridian is now on the market."
Meridian chief executive Mark Binns thanked his staff who had been working for 18 months on what was the largest ever IPO in New Zealand.
That work was conducted in a politically charged environment and against the backdrop of discussions about the future of the Meridian's largest customer, the Tiwai Point aluminium smelter.
Throughout that, Meridian's team `stayed on song in terms of delivering for customers and ensuring the underlying business continues to improve".
Investors now had a stake in some of New Zealand's "most iconic infrastructure assets" and Binns said he had no doubt that the additional transparency and reporting requirements that came with listing would lead to "better decisions and better governance".