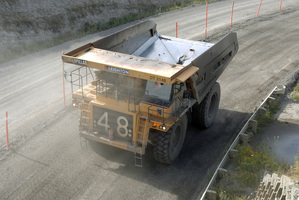 Solid Energy has secured its restructuring deal with most of its banks and the Government following a series of meetings today in Christchurch.
The state owned coal miner said it received "majority support" from its five bank creditors and note holders at the meetings.
Bank of Tokyo-Mitsubishi UFJ Ltd has not agreed to the deal, but its opposition will not stop it from going ahead.
While it had the support of most of its banks, "certain of the arrangements are still subject to legal challenge" Solid Energy said.
Bank of Tokyo-Mitsubishi lodged a legal challenge to the deal two weeks ago in the High Court at Auckland.
But Finance Minister Bill English today said: "as far as we're concerned the deal is proceeding".
He has said Bank of Tokyo's legal challenge has little chance of succeeding but this afternoon said that if it did there would be no choice but to put the company into receivership.
"If the compromise is scuttled Bank of Tokyo run the risk of losing all their money."
Solid Energy Chairman, Mark Ford, said the company now had "a reasonable chance to trade its way back to a viable and financially stable position over the next three years when the restructured credit facilities come up for review".
The deal will reduce the company's bank debt from $300.5 million to $239.5 million and its medium term notes from $95 million to $81.2 million.
$75 million worth of the banks' debt will be converted into non-voting redeemable preference shares.
The Government is to buy $25 million worth of the redeemable preference shares was
well as providing a $50 million secured working capital loan, a further secured mortgage-backed loan facility of $50 million and a secured standby facility of up to $30 million if required.
"Our commercial lenders and the Crown have given us a lifeline, not a hand out", Mr Ford said.
"The business now has to work very hard to complete the turnaround that is required to return to commercial viability. This will be a challenging undertaking given the on-going volatile international coal market and high New Zealand dollar"