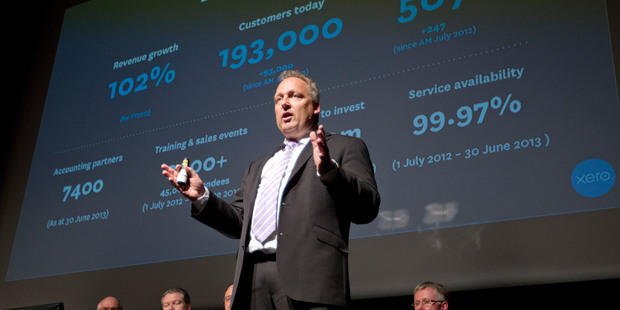 Milford Asset Management has revealed it contributed $16 million to Xero's $180 million capital raising.
Auckland-based Milford, which manages over $2.3 billion of investments, said in a statement today that its "main objectives is to invest in growth orientated New Zealand companies and Xero definitely fits that bill".
Milford's Trans-Tasman Fund, Dynamic Fund, Active Growth Fund and Active Growth KiwiSaver Fund were named as the funds which contributed the $16 million as part of the capital raising.
"One of Milford's founding principals was to invest in New Zealand companies with strong global ambitions. These companies create jobs, economic growth and wealth for shareholders. Hopefully Xero is the beginning of a new trend as far as New Zealand companies are concerned," Milford's Brian Gaynor said.
Shares in Xero broke through the $20 mark today, closing $20.58 each, up 4.47 per cent.
This comes on the back of yesterday's share price jump of 9.75 per cent.
Xero's shares have risen 284 per cent in the last year despite the firm having yet to make a profit.
The Wellington-based company announced yesterday that it raised $180 million in new capital, mainly from US investors.
That's left it flush with $230 million in the bank to fund its global growth plans.
The company sold 9.92 million shares at $18.15 apiece, 1.1 per cent above their price last week, to Matrix Capital Management, Peter Thiel-backed Valar Ventures and other US investors.
Today's boost means the new shares have already appreciated 11 per cent.
The sale represents 8 per cent of the enlarged capital of the company and gives it a much wider cash buffer to fund growth as it chases 1 million customers, almost five times its current customer base of 211,000.
Valar and Matrix last injected funds into Xero in November, with $60 million of new capital, while buying $22 million of shares from director Craig Winkler, Drury, and co-founder Hamish Edwards at the same time.
The shares have surged 159 per cent this year, and are more than 20 times the $1 they were sold at in the company's 2007 initial public offer. It is now the eighth biggest domestic company on the local stock exchange.
In June, Xero said its tightly held share register led to a volatile price when the NZX questioned a 23 per cent slide in the stock.