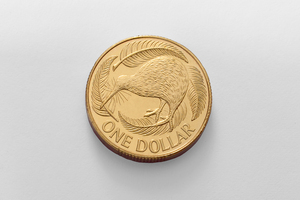 The New Zealand dollar fell as investors favoured so-called safe-haven currencies on concern that US politicians have yet to reach agreement on the budget as the deadline looms this week for raising the nation's debt limit or risk default.
The kiwi slipped to 82.83 US cents at 8am in Wellington, from 83.16 cents at the New York close Friday and 83.02 cents at the 5pm close in Wellington on Friday. The trade-weighted index dropped to 77 from 77.13 in Wellington on Friday.
US government officials failed to agree at the weekend on a way to resolve the budget impasse as a partial government shutdown nears its two-week anniversary. That doesn't bode well for their ability to agree to lift the country's borrowing capacity by this Thursday's deadline or risk debt default.
"Currency markets went into the weekend optimistic a resolution on the US debt ceiling was imminent," Sharon Zollner, senior economist at ANZ New Zealand, said in a note. "The lack of result has led to a Monday where "risk" (ie New Zealand dollar and Australian dollar) were sold and "safe" (ie yen and Swiss franc) were bought."
Today, there are public holidays in the US, Canada and Japan.
In New Zealand today, the BNZ Performance of Services Index scheduled for release at 10:30am is expected to remain solidly in expansion, in line with last week's PMI.
The New Zealand dollar advanced to 87.94 Australian cents from 87.62 cents in Wellington on Friday ahead of tomorrow's release of the Reserve Bank of Australia's minutes of its last meeting.
The kiwi slipped to 51.87 British pence from 51.95 pence on Friday and fell to 61.08 euro cents from 61.31 cents. The local currency dropped to 81.31 yen from 81.74 yen on Friday and weakened to 75.29 Swiss franc from 75.57 franc.