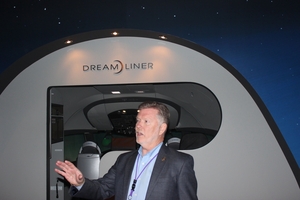 In a soccer field-size building near Boeing's main factory north of Seattle, airline executives go shopping in the aviation equivalent of the furniture section of a large department store.
At the Dreamliner Gallery, Boeing 787 customers can spend days picking out what they want to furnish their new planes.
From the gallery they can choose galley layouts, cooking equipment, toilets of all shapes and sizes, lighting options, wall patterns, fabrics, in-flight entertainment systems, and compare seats from different manufacturers.
Most are from the standard catalogue and part of the list price of the plane; for some, they have to pay extra.
"It's kind of like buying a house and then going to an interior designer," said Mark Larson, technical manager of the Dreamliner Gallery.
Boeing assembles the plane at the Everett plant nearby and its interiors group has one main aim - more seats but without putting the squeeze on leg room.
"That's the bottom line - more seats on the plane without taking out an inch from everyone's legroom," he said.
The gallery was the first venue in the world to feature seats from rival manufacturers. The seats and inflight entertainment gallery features rows of pre-certified seats from suppliers in the 787 catalogue, allowing customers to test them.
The Dreamliner's floor design guarantees a minimum seat pitch.
"It cannot be less than 30-inch (76cm) pitch, we'd get a bad rap if it was less," Larson said.
There's also a mock cabin with foam replicas of furniture and fittings such as stowage bins that can be easily moved around.
Centre bins are optional in the front premium cabin where the pilot rest space would be. If airlines opt for cabin crew rest space, they will sleep in what would be the centre bin space at the rear of the plane.
Boeing has standardised much of the equipment within the plane that will save airlines money. Food carts had previously all been different so Boeing picked the supplier that dominated the market and built galley specifications and spaces around that. Coffee-makers, chillers, freezers and ovens are all modular and interchangeable.
"You're just heating food and making coffee, why don't you standardise it?"
The larger than normal, push-button dimmable windows are also on display.
The photochromic windows were developed not so much for the cool factor but primarily in response to high maintenance costs of manual window shades, which took an hour and a half to replace if they broke, he said.
The windows take about a minute to dim completely and about two minutes to brighten up, and after 15 seconds are able to be seen through - not fast enough for some airlines so Boeing is looking at ways of speeding it up.
Cabin crew have master controls of all the windows to avoid the problem of a shade being opened suddenly during a daytime flight when most of the passengers are trying to sleep.
Manual shades are installed in toilets for one good reason.
"If you're on the ground and you remove power from the plane, everything goes clear," Larson said.
The toilets come in a range of designs, including a potentially double-size one for handicapped passengers that will fit into economy cabins.
The toilet is flushed by closing the lid, allowing noise levels to drop down substantially. With the lid closed, air flow around the bowl "does the work", so the plane needs to carry less water saving more than 100kg on a six-hour flight.
Mood lighting is not new but the Dreamliner takes it further than other aircraft now flying, and Boeing offers 14 standard "scenes" of lighting.
Boarding lights are brighter than for taxiing, when passengers may be watching safety videos; nighttime takeoff lighting is right down so passengers can see outside; nighttime cruise is dim with no downwash lights along walls of the fuselage.
There is often a deep blue at the top of the cabin, except at meal time.
"We cooked a steak, held it up to the [blue] light and it looked grey - a real road kill type of grey."
Instead, the cabin will have warm colours of candle light when meals are served.
Larson said airlines spent days deciding how to deck out their aircraft, bringing in uniformed staff and their own branding to co-ordinate the look of the plane.
All the cabin walls are white but there are eight different patterns, the smoother ones being most popular.
Larson said: "I see them spend hours and hours agonising over this."