CTU sees flaws in Govt response to task force report, but says proposed changes are 'very good'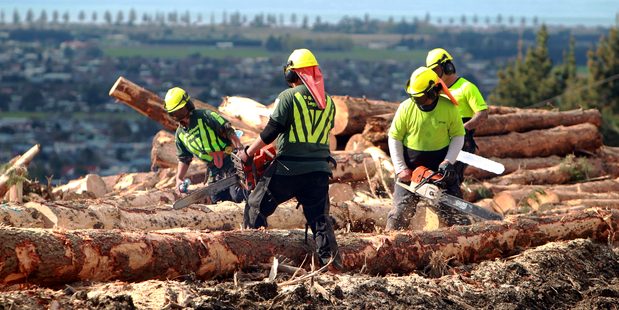 In April, the chairman of the Independent Taskforce On Workplace Health and Safety, Rob Jager, announced a vision for safer workplaces.
"Within 10 years, New Zealand will be among the best places in the world for people to go to work each day and come home safe and sound," he said.
"We believe that this is absolutely possible, but it will require an urgent, broad-based step-change in approach and a seismic shift in attitude."
The Government stepped up this week with a significant, if not seismic, response to the recommendations made by the task force for radical improvements to health and safety.
"Working Safer: a blueprint for health and safety at work" is part of what Minister of Labour Simon Bridges calls an important turning point in workplace health and safety.
"We have an opportunity to create a world-class system," he said. "The report of the Royal Commission on the Pike River Coal Mine Tragedy was a serious wake-up call for us all.
The legacy we leave to the Pike River 29 is to ensure such a tragedy never happens again. We also owe this to the families of the 75 New Zealanders who die each year in our workplaces."
The death last month of forestry worker Charles Finlay, 45, in Tokoroa underlined the task force findings, which identified multiple causative factors in a system not fit for purpose.
Finlay was the sixth to die on the job in the forestry industry this year.
Council of Trade Unions (CTU) president Helen Kelly, who has the inquiry reports from deaths in forestry since 2008 says there is "a reckless disregard" by owners in the industry for workers.
She thinks this attitude has permeated the whole system through to contractors and individual workers, who may feel pressure to work in hazardous conditions (a problem identified at the Pike River mine) and, according to the research, suffer daily fatigue equivalent to that of a marathon runner.
"These [workers] are getting logs smashed in their faces, breaking every bone in their eye sockets, their noses, their jaws, pushing their bones into their brains," Kelly said.
A new approved code of practice for safety and health in forest operations has been developed.
The Ministry of Business, Innovation and Employment's general manager of health and safety operations, Ona de Rooy, said the forestry owners were consulted in developing the new codes. (This differs from a tripartite approach where government, employers and workers participate together at all levels, an approach recommended by the task force and the CTU.)
"It was a matter of working with industry, revising the code and promulgating a new rule book," De Rooy said. "We then spent six months working closely with industry to build understanding of the new code and the various expectations."
The ministry and inspectors are now bedding in the code, making sure it is implemented correctly.
"We have been through the 'engage the sector and educate', we are now into ensuring compliance and enforcing where there is non-compliance," De Rooy said. "There can be no cry of 'we didn't know' or 'we didn't understand what safe was'."
Among the five high-hazard industries - forestry, agriculture, fishing, construction and manufacturing - forestry, with about 7000 workers had 900 serious harm accidents reported since 2008.
Agriculture, with 22,000 workers had the most accidents last year, 408 people were seriously injured and 12 died in work-related accidents on farms.
The taskforce found there were 102 work-related deaths between 2008 and 2010 and that New Zealand had a workplace fatality rate of around four deaths per 100,000 workers.
The cost of workplace injuries and diseases were estimated in 2010 to be about $3.5 billion a year - about 2 per cent of gross domestic product in today's terms.
Working Safer includes an overhaul of the law and a new act based on Australian legislation - "to provide clear, consistent guidelines and information for business, additional funding to strengthen enforcement and education, with a focus on high-risk areas; stronger penalties and better co-ordination between government agencies."
WorkSafe New Zealand, a new stand-alone health and safety regulatory agency is part of the reforms that aim to improve accountability and leadership.
Kelly said the Government's announcements acknowledged New Zealand's health and safety system was in need of an overhaul. The CTU welcomed the proposed changes and looked forward to better law with more rights for worker participation and better systems in the workplace for sharing information.
"Moves to strengthen worker participation in the workplace are particularly positive and will help keep Kiwi workers safer at work," she said.
"The inclusion of a general duty to involve and consult with workers on health and safety matters, and strengthen the role of health and safety representatives will give workers a voice in how health and safety is handled in their workplace".
But she noted a contrast between these changes and the Government's decision to guarantee business representation only on the board of WorkSafe NZ.
Provision was made for worker perspectives on the Board of WorkSafe NZ "by grace and favour", and they were vulnerable to removal, while business was legislated for.
"If they had the power of all the players working together, finding common ground, contributing to their maximum they would be so much better. It is ironic, given that employers have such a conflict of interest in this area - you can make money cutting corners - but no one would suggest they should not be involved.
"Yet workers - the ones getting hurt, with much less power and influence, seem to be the focus of the doubts."
The CTU strongly supported the additional commitment to training of health and safety representatives and the recognition that time and resources were needed to increase their effectiveness in the workplace.
"We need to lift both the quality and volume of training, and build on the knowledge of those who have already trained. They are often lost to the system when they change jobs."
Basing changes on Australian law was sensible as Australian work-injury statistics were so much better than New Zealand's and Australia had recently reviewed its system.
"It will be useful to build on that and to align our system with theirs wherever possible."
She considered the Government's response was in general loyal to the recommendations of the Pike River inquiry and its task force recommendations.
"That is exactly as it should be. However, to choke on the strong consensus recommendation from the task force that tripartism is an essential element that should be evident throughout the system, and to not have worker representation on the board is both short-sighted and a badly missed opportunity which is unfair to the working people of this country."
Meanwhile, she says, "the changes are very good. No doubt about it."
Need advice? Send your career-related question to our new advice column at
careers@nzherald.co.nz
. Please put
Career Specialist question
in the subject line.