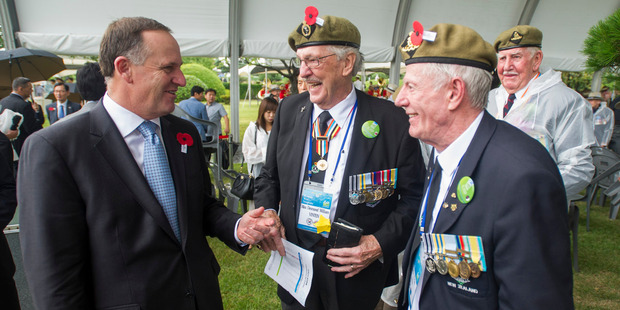 A far cry from the stinking ruins of the war-ravaged city New Zealand's war veterans saw here 60 years ago, Seoul is now an attractive destination.
With South Korea's 50 million people enjoying per capita income on a par with New Zealand, Seoul has all the colour and vibrancy one expects from a major Asian city, but apparently little of the grinding poverty often seen in many others.
The wealth of its people is particularly apparent in the hundreds of families sunning themselves in the gorgeously landscaped poolside gardens of the Park Hyatt, Prime Minister John Key's favourite hotel when he visits.
That wealth makes South Korea an important $1.5 billion export destination for New Zealand producers. Those exports, however, are under threat from competition from rivals in the United States, Chile and the European Union who can undercut us because they have free trade agreements with Korea, but we don't.
Mr Key's visit with 30 Korean War veterans over the past week was to commemorate the end of hostilities with North Korea 60 years ago, but it was also about restarting free trade talks which stalled three years ago.
It would probably look ungracious to blatantly use the sacrifice of 6000 Kiwis who served in the war and the 45 who died as a bargaining chip in getting South Korea back to the table. But depending on who he was talking to, Mr Key appeared to be doing just that.
It certainly looked that way to Korean media who yesterday asked him about reports that he'd said "that it's time for Korea to repay New Zealand for its contribution during the Korean War".
Mr Key challenged the Korea Herald reporter on the accuracy of the quote.
But just a couple of days earlier at a morning tea for the veterans at New Zealand Ambassador Patrick Rata's residence, he told them it was "not right or fair" that New Zealand didn't have an FTA given other nations which went to the country's aid during the war did.
As it happened, after meeting Mr Key last week President Park Geun-hye did agree to restart talks, after senior Korean trade officials met recently with their New Zealand counterparts in Auckland.
Nevertheless, talking to an audience of Korean and New Zealand businesspeople yesterday, Mr Key was still making the point that the New Zealanders who came and fought here gave Korea "the opportunity to be the wealthy country that they are today".
If the talks result in an agreement - which Mr Key yesterday suggested was a better than even prospect - then our exporters will owe our Korean veterans an even greater debt of gratitude than that which is already their due.