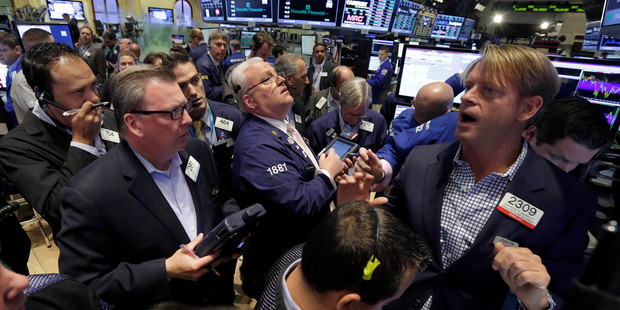 Stocks and bonds rose after US Federal Reserve Chairman Ben Bernanke said highly accommodative policy would be needed for some time yet, reassuring investors that the central bank is not about to begin reducing its bond-buying program.
"Highly accommodative monetary policy is what is needed in the US economy," Bernanke said after the close of Wall Street yesterday, following a speech in Boston.
In late afternoon trading in New York, the Dow Jones Industrial Average climbed 0.98 per cent, the Standard & Poor's 500 Index rallied 1.06 per cent, while the Nasdaq Composite Index gained 1.32 per cent. Earlier in the day the S&P 500 rose as high as 1,671.03, vaulting past the record close of 1,669.16 in May.
Shares of Advanced Micro Devices soared, last up 10.9 per cent, after Bank of America Merrill Lynch upgraded the stock. Microsoft advanced after unveiling a corporate reorganisation to refocus on mobile devices and the cloud.
US Treasures gained too and bolstered demand for the government's US$13 billion auction of 30-year bonds. The yield on the US 10-year Treasury note fell to 2.58 per cent.
"You had more evidence from the Fed that they are going to great lengths to make the market realise that they are very data dependent and are not talking about tightening," David Coard, head of fixed-income trading in New York at Williams Capital Group, a brokerage for institutional investors, told Bloomberg News.
The Fed "won't do anything that will jeopardise a recovery that's still somewhat fragile," Coard said.
Bernanke's reassurances also helped commodities including gold, copper, silver and platinum. Spot gold rose as much as 2.7 per cent. Copper jumped about 3 per cent to a near one-month highs, while US crude futures retreated after the previous day's rally but hovered near multi-month highs.
The US dollar slid, though traders said they saw the pullback as temporary. The dollar index, which tracks the greenback against a basket of six currencies, fell to 82.418, its lowest since June 25 and down 2.8 per cent from a three-year high of 84.753 touched on Tuesday. It last traded down 1.3 per cent at 82.978.
The latest Labor Department data showed a surprise increase in the number of Americans filing for unemployment benefits, which climbed by 16,000 to 360,000 in the week ended July 6 from a revised 344,000.
In Europe, the benchmark Stoxx 600 Index finished the session with a 0.6 per cent increase from the previous close. Elsewhere, the UK's FTSE 100 index rose 0.6 per cent, France's CAC 40 advanced 0.7 per cent, while Germany's DAX climbed 1.1 per cent.