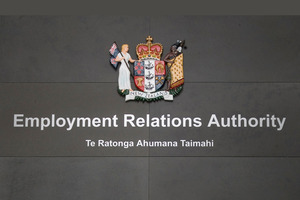 Government plans to streamline industrial disputes with rulings on the day of hearings creates a "substantial risk of error," according to the bench of the Employment Court.
In a written submission on the Employment Relations Amendment Bill, Chief Judge Graeme Colgan told politicians attempts to speed up the determination process in the Employment Relations Authority risks undermining the body with substandard rulings, and will likely lead to an increasing number of appeals.
The Chief Judge, on behalf of all judges on the Employment Court, wrote to Parliament's transport and industrial relations select committee overseeing the bill, which would demand either an oral ruling immediately after an ERA hearing with a written ruling within three months, or an indication of a preliminary finding.
"It is no exaggeration to say that some cases are essentially no different to ones determined by the Employment Court or to similar proceedings in the High Court, but which courts would, almost inevitably, reserve at the end of a hearing for delivery of a reasoned judgment in writing," Judge Colgan said.
"If an investigation meeting raises a complex or difficult question of law on which the authority member is not addressed sufficiently or at all, clause 61 (of the bill) would prevent the authority member from obtaining the benefit of legal research, creating a substantial risk of error in the determination," he said.
Employment law practitioners and their clients typically aren't confident in oral decisions, and a short period to allow for a written judgment "enhances confidence in the process, and reduces appeals," the submission said.
Labour Minister Simon Bridges, a former Crown prosecutor, introduced the proposed changes to the ERA as part of broader changes to employment law in a bid for speedier resolutions and more private settlements before a binding written resolution.
At the bill's first reading on June 6, Bridges told Parliament the ERA was failing to meet its six-week target to issue a determination and that he deemed it necessary to implement a statutory timeframe.
Judge Colgan said the clause in the bill also took no account of cases which are decided on paper submissions without a hearing, and would require all matters before the ERA to be looked at during an investigation meeting.
The judges urged the select committee to consider changes to the bill to encourage ERA members to deliver prompt determinations, but providing flexibility to allow for written decisions in cases where it cannot or should not deliver oral rulings. They also sought to provide a written transcript of a ruling as soon as practicable rather than within the three-month statutory timeframe.
The judges don't necessarily want to be heard in person on the submissions, though Judge Colgan said he would be happy to assist in a private session in the committee wanted it.