Air NZ's Dreamliners being built at greenfields factory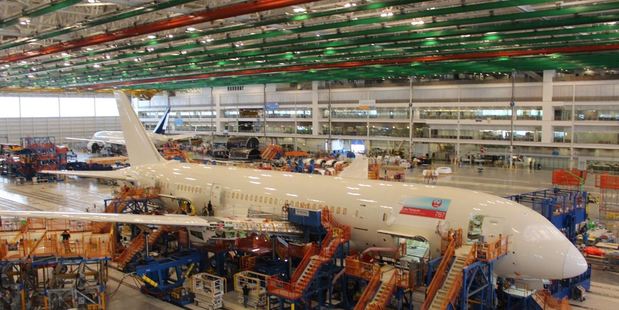 Boeing is ramping up production at its new plant in South Carolina - the first place it has made commercial planes outside of its base in Washington state.
The company has delivered five 787 Dreamliners from the Charleston facility and will deliver a sixth soon.
Further back in the production line is the rear section and mid body of Air New Zealand's second Dreamliner, which should be complete some time next month ready for transport across the country to Seattle for final assembly.
Jack Jones, Boeing's South Carolina vice-president and general manager, said the decision to set up a factory outside of Washington state was made to overcome "world famous delays".
The appeal of the non-union South and generous tax incentives helped but were not the deciding factor, he said.
In 2009 it made the decision to spend US$1 billion ($1.27 billion) on a new plant and take over a struggling supplier, completing a massive new assembly building two years later.
In April it announced it would spend the same again on expansion in return for state tax incentives of US$120 million over seven years.
The company built a factory and delivered its first plane within 2 years. In other places the company would need that time just to get planning permission. Without naming them, he said some communities had become complacent about the benefits of having a big employer such as Boeing.
Jones, a 34-year Boeing veteran, said he had doubts about moving away from Seattle, given the lack of any aerospace experience among most of the workforce that is now more than 6000 strong.
"I know what the talent of people in Puget Sound (the Seattle area) was and that was not easy to recreate."
Factory floor workers were put through intensive, extended training programmes using computer simulations because experienced workers were not on hand to pass on knowledge.
The Seattle-based machinists' union is opposed to the non-union site.
"They have the legal right in any state to form a union, of course we don't believe they need one," he said. "There are a lot of reasons why a workforce might want a union, we're working to make sure that we don't give them any of those. We've worked very closely to keep it a union-free work site."
Starting a greenfields operation had other advantages.
"If you start a new site you don't bring any of the bad stuff, you just bring the good stuff," said Jones.
The main building has glass in its doors, allowing in more light, and solar panels generate about 20 per cent of power it uses.
The plant is in three parts - the aft body fabrication, the mid-body assembly and then the final assembly, where wings and engines are attached and the interiors installed.
The first plane took nine months to build and deliver, it now takes about three months.
"The learning curve is kicking in. The secret is repetition, if you do it over and over you get better."
• Grant Bradley travelled to Charleston courtesy of Boeing and Air NZ.