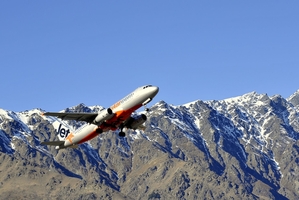 Jetstar chief for Australia and NZ Jetstar is backing off more from Queenstown, cutting services from Wellington in September as it tries to tap into the business market elsewhere on its network.
The airline has scaled back on the route this year from daily services to four times a week after late last year cutting its services to the southern resort town from Christchurch.
It also cut flying across its entire network during May and June as part of "route optimisation" in the face of weak winter demand, but Jetstar says it remains committed to its New Zealand domestic network.
Jetstar chief executive for Australia and New Zealand David Hall said the airline would increase flights between Auckland and Christchurch and the new schedule would provide a better spread of services to provide more choice to the leisure and business markets.
The airline is emphasising its improved on-time performance and targeting the corporate market with more flexible fare packages as it tries to take on Air New Zealand, which has a stranglehold on the business market.
A spokesman said overall there was a "bit of a reduction" in the total number of seats across the network. "It's fair to say that these decisions aren't taken lightly - it's a matter of balancing where the market demand is best."
The airline flew 16 return services a week from Auckland to Queenstown and these were not under review.
Jetstar's announcement came two days after Air New Zealand said it was increasing capacity between Wellington and Queenstown this winter ski season.
From July through until mid October, Air NZ will be offering 44 per cent more seats a week between the two centres by putting on Boeing 737s instead of the existing 68-seat ATR turboprop aircraft.
Wellington Airport's chief commercial officer, Matt Clarke, said the Jetstar decision was disappointing given the growth stimulated on the route by low fares.
"Since Jetstar started their daily jet services, passenger numbers on this leisure route have more than tripled, with Air New Zealand responding to the competition by also adding capacity and dramatically cutting air fares.
"This resulted in Queenstown becoming a new destination for many travellers out of Wellington."
Given Air New Zealand's additional capacity Clarke said he hoped competitive fares would remain for the long term.
With Air New Zealand's increase in capacity and Jetstar's ability to fly other routes, the airport didn't think it would affect revenue.