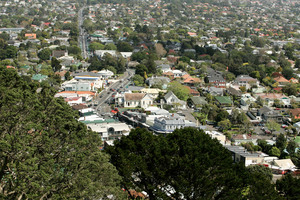 The NZIER shadow board thinks the Reserve Bank should keep the official cash rate on hold at 2.5 per cent tomorrow, but for the first time in 18 months it says the next best option would be to raise it.
The shadow board is a panel of nine economists and businesspeople the New Zealand Institute of Economic Research asks to quantify their preference for various levels the bank could set its policy interest rate at.
The results are then aggregated to give an indicator of which rate the bank should go for and the shifting balance of risks around it.
It now has a 69 per cent preference for keeping rates on hold - as the financial markets are confident the bank will do - up from 63 per cent ahead of the April OCR review.
But there is 19 per cent support for a rate rise, up from 12 per cent last time, and only 12 per cent support for a rate cut, down from 25 per cent.
NZIER economist Kirdan Lees, who set up the shadow board, said house prices in Auckland continued to surge, risking a costly correction further ahead. This has led to an increase in support for raising rates for the first time in 18 months.
A panel member who has shifted his view is Bank of New Zealand head of research Stephen Toplis.
"House prices are still rising too quickly," Toplis said. "The international environment is stabilising, the cost of funds for the banking system is falling, credit growth is rising, the currency is falling and the drought is over. All this suggests the Reserve Bank will need a firm tightening bias."
Another is NZIER principal economist Shamubeel Eaqub.
"The Reserve Bank should not raise interest rates yet, because inflation is low, the recovery is fragile and the exchange rate is high," Eaqub said.
"It can and will use macro-prudential tools to cool the frothy housing market soon. But it should be ready to step in with interest rate increases if need be to maintain financial and economic stability."