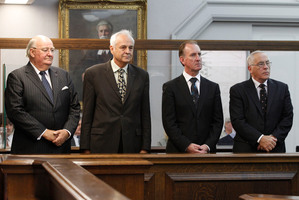 Former National Government Cabinet Minister Sir Douglas Graham and the other former directors of failed Lombard Finance are taking their case to the Supreme Court, their lawyer Jim Farmer QC has confirmed.
Sir Douglas, former Labour Government Justice Minister Bill Jeffries, former Lombard chief executive Michael Reeves and a fourth former Lombard director Lawrie Bryant will seek leave to appeal their Court of Appeal decision two weeks ago, which upheld their convictions under the Securities Act.
"That decision has been taken after a full consideration of the Judgment, including the receipt of legal advice", Mr Farmer said in a statement.
The application for leave would be filed as soon as the Court of Appeal gives its final judgment on the Solicitor-General's appeals against the sentences originally given to the four following their earlier High Court hearing where they were convicted for failing to include important information about Lombard's financial position in offer documents issue a few months before the company failed.
The decision to go to the Supreme Court means it will be months before Prime Minister John Key must decide whether Sir Douglas holds on to his knighthood.
The Court of Appeal's decision last month fuelled fresh calls for him to be stripped of the honour for his role in the 2008 Lombard Finance collapse which cost investors about $100 million.