Search engine designer SLI Systems makes 19 per cent gain on sharemarket debut.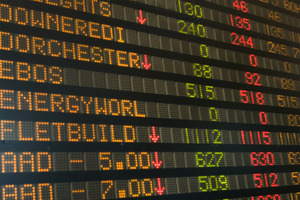 New Zealand shares gained, paced by Xero and Diligent Board Member Services, after the 19 per cent rise of SLI Systems on debut attracted investors to web-based firms.
The NZX 50 index rose 40.84 points, or 0.9 per cent, to 4511.35. Within the index, 25 stocks gained, 17 fell and eight were unchanged. Turnover was a bigger than normal $339 million.
Gold miner OceanaGold was the biggest gainer, up 7.7 per cent to $2.37.
Website search engine designer SLI jumped 28c to $1.78 on its NZX debut yesterday, the first of several technology-based stocks set to join the stock exchange in coming months. That demand spilled over into fellow software-as-a-service providers Xero and Diligent, which climbed 5.7 per cent to $14 and 6.6 per cent to $8.20 respectively.
"It was a very good day for them to come on the market because both Xero and Diligent are performing well," said Grant Williamson, a director at Hamilton Hindin Greene. Telecom gained 1.3 per cent to $2.31, and Sky Network Television advanced 2.6 per cent to $5.85.
Ebos Group, which announced a $1.1 billion acquisition of Australian pharmaceutical distributor Symbion this week, climbed 1.9 per cent to $10.80, and Williamson said investors are keen on the purchase.
Guinness Peat Group was the biggest decliner, down 6.4 per cent to 44c after updating analysts on its potential pension liability. The UK Pension Regulator is looking at whether GPG should provide more support to the Coats' retirement schemes.Metlifecare fell 3.6 per cent to $3.26 after it completed a $70 million placement to institutional investors. The retirement village operator sold 22.6 million shares at $3.10 apiece, and plans to repay debt.
Port of Tauranga fell 0.4 per cent to $14.29 after chairman John Parker announced his retirement in October.
Turners & Growers was unchanged at $1.60 after the fruit marketer said it would buy out management shareholders Deliva unit. T&G bought the remaining 30 per cent for $25.8 million.
AWF Group was unchanged at $3.15 after managing director Simon Hull sold down his controlling stake in the contract labour firm to 58 per cent from 68 per cent. Hull's family interests sold 2.5 million shares at $2.90.
Shares in PGG Wrightson plunged 19 per cent to 25c a day after it announced the departure of managing director George Gould later this year.