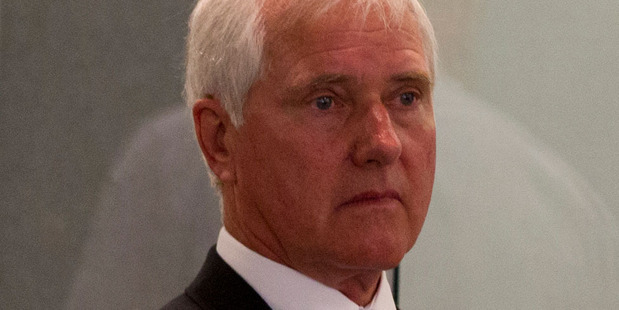 Dominion Finance director Robert Barry Whale - who was acquitted earlier this year in a case brought by the Serious Fraud Office - has pleaded guilty and been convicted today on separate charges of misleading investors.
Whale, 65, admitted in the High Court at Auckland this morning to seven Securities Act charges brought by the Financial Markets Authority.
The charges related to alleged untrue statements in the Dominion Finance Group and North South Finance offer documents and advertisements. These included prospectuses, investment statements and an allegedly misleading newsletter to investors.
Justice Sarah Katz this morning convicted Whale on the seven charges, and ordered a short-form pre-sentence be prepared containing a home detention appendix.
He is due to be sentenced on June 14.
Whale was to stand trial next month alongside fellow directors Vance Arkinstall, Richard Bettle and Paul Forsyth before he pleaded guilty this morning.
Another Dominion director Ann Butler, who was also due to stand trial on these charges, also pleaded guilty earlier this month and is due to be sentenced on the same day as Whale.
A partner at Jones Young, Whale is a lawyer with "over thirty years' experience acting for and advising a wide range of leading corporates", according to the law firm's website.
Last month, Whale was found not guilty on charges of theft by a person with a special relationship brought by the SFO.
One of his co-defendants in the case, former Dominion chief executive Paul Cropp, was found guilty in this case and is due to be sentenced on these charges this afternoon.
Dominion Finance:
* Dominion Finance Group and North South Finance were sister companies and operating subsidiaries of the NZX-listed Dominion Finance Holdings.
* Both offered property and commercial loans.
* North South went into receivership in July 2010 owing $31 million to 3900 debenture holders, who are expected to get back between 65c and 70c in the dollar.
* DFG went into receivership in September 2008 owing almost 6000 investors a total of $176.9 million.
* Receivers estimate that debenture holders will recover between 10c and 25c in the dollar