First-home buyers look unlikely to be exempt from restrictions on low-deposit home loans from banks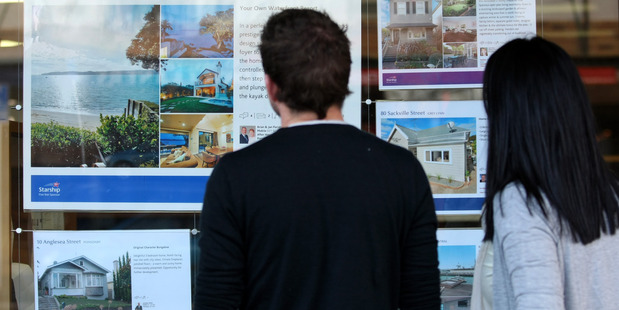 Documents released by the Reserve Bank yesterday give scant support to Prime Minister John Key's suggestion that it might exempt first home buyers from any restriction on low-deposit home loans.
Loans where the borrower has a deposit of less than 20 per cent - high loan-to-value ratio or high LVR in the jargon - represent about 30 per cent of all new residential mortgage lending.
Restricting such loans is one of the four macro-prudential tools the Reserve Bank has just been empowered to use, intended to curb destabilising growth in debt or asset prices.
Key said yesterday that Governor Graeme Wheeler was very conscious that a lot of first-home buyers wanted to borrow a bit more than that.
"So it's entirely possible that he will have speed limits and go to the banks and say you can have a carve-out for first-home buyers."
But responding to calls that curbs on high LVR loans should exempt first home buyers, the bank said yesterday such exemptions could significantly dilute the effectiveness of the instrument.
"Although LVR restrictions overseas have sometimes exempted first home buyers, this might be desirable only if first-home buyers were not driving a substantial part of the high LVR lending."
It has asked the banks for a breakdown of high LVR housing lending to help it assess the pattern of high-risk borrowing in the housing sector and what the impact of restricting such lending would be.
And a paper explaining its "final policy position" indicates that while outright limits on the proportion of the property's value that can be borrowed are possible, it is thinking more in terms of a "speed limit" which would restrict such loans as a share of a bank's lending.
"For example, only 10 per cent of new residential property lending might be permitted with an LVR above 90 per cent," it said.
Alternatively, tiered limits might be used.
"For example, only 10 per cent of new residential property lending might be permitted with an LVR above 85 per cent, only 5 per cent of new residential property lending might be permitted with an LVR above 90 per cent, and zero new residential property lending permitted with an LVR above 100 per cent."
The banks broadly preferred the speed limit approach, the Reserve Bank says, as it would allow them to continue to provide some high LVR loans to creditworthy borrowers, such as individuals with low net worth but strong current or future debt servicing capacity.
Exemptions will be permitted for high LVR lending under Housing New Zealand's Mortgage Insurance Scheme, including the Welcome Home Loan scheme and Kainga Whenua programme, it said.
Such loans are intended to meet government housing policy objec-tives and present minimal risks to financial stability, as any bank losses are either underwritten or guaranteed by Housing New Zealand.
But the Reserve Bank has rejected calls to exempt high LVR loans which are insured using lenders mortgage insurance provided by private insurers.
"LVR restrictions are designed to be used in times of rising systemic risk.
"In the event of a severe systemic shock, the resilience of private insurance can be severely tested, as was illustrated in the United States, with mortgage insurers not having adequate capital to meet claims," it said in the statement.