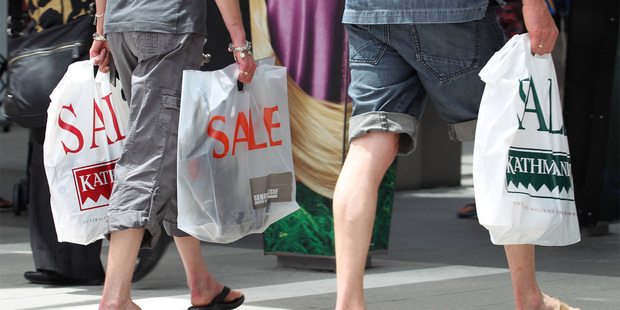 New Zealand consumers continued to get more optimistic this month as rising house prices and an improving labour market underpinned the rosier outlook.
The ANZ-Roy Morgan consumer confidence index rose 4.5 points to 123.7, with more respondents in the survey feeling better off financially than they did a year ago, the first positive reading since March 2008. The current conditions index advanced 4 points to 123 and future conditions gained 5 points to 124.
"Lifting business confidence had earlier signaled the economy was picking up, but now the baton has been passed to the consumer," ANZ New Zealand chief economist Cameron Bagrie said in his report. "The question is how durable a sentiment-led pick-up in consumer spending can be in the absence of an income generation backbone."
Government data this week showed retail sales grew 0.5 per cent in the first three months of the year as a sweltering summer kept a lid on people's plans to buy new clothes ahead of winter.
The survey of 1,028 people, found a net 1 per cent feel better off than a year ago, compared to a net 2 per cent feeling worse off in April. A net 36 per cent expect to be better off next year, up from 28 per cent last month.
People were more upbeat about the economic outlook, with a net 12 per cent more optimistic about the year ahead from 7 per cent, and a net 25 per cent upbeat about the economy five years out, compared to 24 per cent in April.
A net 44 per cent of respondents said it's a good time to buy big ticket items, up from 40 per cent last month.
Government figures last month showed increasing discounting among retailers was one of the key ingredients in keeping the annual pace of inflation at 0.9 per cent, just below the Reserve Bank's target band of between 1 per cent and 3 per cent.
Some 40 per cent of major household appliances were discounted in the quarter, the biggest proportion, followed by audio-visual equipment with 36 per cent marked down. A third of carpets and other floor coverings, and glassware, tableware and household utensils were discounted, and 29 per cent of women's clothing was reduced.