Dairy leads 12.6 per cent jump last month - largest rise in index's 27-year history.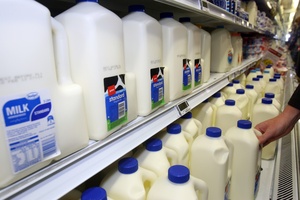 Led by dairy products, ANZ's commodity price index hit an all-time high last month but Fonterra's auction yesterday saw prices give back nearly half of April's gains.
In world price terms, the ANZ index climbed 12.6 per cent - the largest monthly rise in its 27-year history.
It was underpinned by a 26 per cent rise in dairy prices, which make up 44 per cent of the index and without which the rise would have been only 0.2 per cent.
Even with a further strengthening of the exchange rate, in New Zealand dollar terms the basket of export commodities was up 10.2 per cent over the month, to be 17.4 per cent higher than a year ago.
Skim milk powder prices surged 39 per cent, whole milk powder 32 per cent, butter 15 per cent and cheese 8 per cent.
Prices for forest products, pelts, wool, apples and seafood also rose, while aluminium, beef and lamb prices fell.
But Fonterra's first fortnightly auction for May, a more timely indicator, saw dairy prices overall reverse nearly half of April's gains, though they are still the third highest on record and 77 per cent up on a year ago.
Westpac economist Nathan Penny said the new season's dairy output - with contracts for delivery in four to six months - now accounted for the majority of the product on offer at the auction.
"Accordingly, as the new season's product continues to replace this season's drought-hit offerings, prices should drop further," he said.
But while Penny expected world dairy prices to continue to fall, they would remain high by historical standards.
"Overall world dairy supply remains relatively tight. Coupled with strong Asian demand, particularly from China, these factors should see dairy prices higher on average over 2013 compared to 2012."
Westpac has revised down its forecast for dairy production in the 2012/13 season to a decline of 2 per cent. Output had been running 6 per cent ahead on a year earlier until the drought hit.
"While the rain that has come across the country improves prospects for next season's production, it appears to have come too late to reverse falls in production this season," Penny said.
The Treasury last month estimated the drought would cut gross domestic product this year by about 0.7 per cent.
Lower dairy output would be offset by higher prices, while the reverse was true for the meat industry.
"All else equal, the drought-induced increased supply of meat will also put downward pressure on prices in the near term, but lead to reduced supply - and possibly higher prices - next season," the Treasury said.