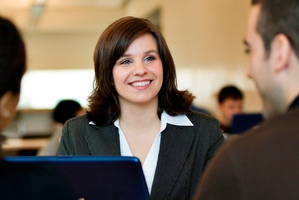 Customer service is something we all face on a daily basis, whether it's serving customers in your line of work or receiving service as a customer yourself.
We can all think of a time when we've received less than stellar service, whether it was the woman in the coffee shop who barked at you for your order then got it wrong anyway, or the man in the hardware store who clearly saw you as an inconvenience to his afternoon.
Thinking about a time when you received bad customer service, how many people did you tell about it? It is likely that you told more people about this experience than one where you received great service.
There is plenty of data indicating the importance of customer service to organisational success and the negative impact bad service can have on an organisation. Many organisations have "a great customer experience" as one of their key goals. So how can organisations ensure that their employees are giving the best possible service to every single customer? Murray Beckman, head of people engagement at ASB, outlines how important measuring engagement is to their customer service.
"ASB has been measuring and tracking the engagement of our people for a number of years, and actively working to increase their engagement based on what they consider to be important," he says. "In doing so, we have been able to gain insights into how a highly engaged workforce can have a direct impact on customer service."
So, if an employee is engaged, you would expect them to deliver the best possible customer service. This could have involved that woman in the coffee shop greeting you with a smile, taking a genuine interest in you as a person, and ensuring you left the shop with a smile on your face.
Wouldn't it be great if all employees were motivated to make positive impressions on their customers? And imagine how many customers would come back knowing they could get the same positive experience?
Having an engaged workforce is not a silver bullet, but when your business depends on positive customer interactions, this is definitely something you want to consider and aim to improve.
• For more information please contact Eunice Oh or Tess O'Rourke-Ng and the team at Kenexa, an IBM company: nz-info@kenexa.com or (09) 378 2003. The Kenexa Best Workplaces Survey runs May 1-August 30. Registrations are open: www.bestworkplaces.co.nz