Mainzeal liquidators spell out complexities of building firm's woes for those owed money.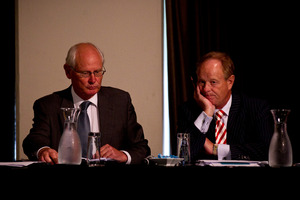 About 2000 unsecured Mainzeal creditors have been given little hope of recovering the estimated $93.5 million they are claiming after the collapse of the building business.
Liquidators Brian Mayo-Smith and Andrew Bethell of BDO in Auckland told about 150 unsecured creditors at Ellerslie yesterday that it was very early days in terms of their work, yet they gave little cause for optimism.
"There's a substantial shortfall but we're not in a position to say there's not any recovery. It's too early to say if there will be any payout," Mayo-Smith told the first creditors' meeting, which was also attended by Stephen Tubbs of BDO Christchurch.
The many subcontractors and others gathered to hear of the complexities of the business, which had been headed by Chinese migrant Richard Yan and underwent a substantial restructuring a few weeks before its Waitangi Day receivership.
Yan was not at the meeting but the liquidators said they had met several former directors including ex-Prime Minister Dame Jenny Shipley and former chief executive Peter Gomm.
Twelve Mainzeal companies are in liquidation, although only four were trading at the time of the receivership on February 6, creditors heard.
Mainzeal was New Zealand's third biggest builder - behind Fletcher Building's Fletcher Construction and McConnell Group's Hawkins Construction - when it suddenly went under, stopping work on many sites.
Mayo-Smith described the liquidations as "complicated" and told of two extremely large inter-company debts, classified as related party transactions: Mainzeal is owed $27 million by Richina Pacific China Investment and $21 million by King Facade.
Other inter-company "positions" related to a Waiheke Island vineyard property, a company, 200 Victoria, which owned Mainzeal's head office opposite Victoria Park Markets in Auckland, and Richina Global Real Estate, Mayo-Smith said.
Mainzeal company liquidations were caused by "substantial" losses on construction projects, substantial existing and pending legal claims "and those we have seen total $77 million but there's others as well".
Mayo-Smith also cited remedial works totalling $21 million which involved King Facade, $7 million to $8 million required to establish Mainzeal Living, the cyclical downturn in the building cycle and adverse settlement on major infrastructure and construction contracts.
Colin McCloy and David Bridman of PwC are Mainzeal's receivers and Mayo-Smith said company assets were under their control.
Questions were asked about reckless trading, taking legal action and possible Serious Fraud Office involvement. "We have not been contacted by the SFO, nor have we contacted them. It's far too early to say if there are any matters that require their attention," Mayo-Smith said.
A creditors' committee has been formed and multimillionaire Brett Russell from one of NZ's larger builders, Dominion Constructors and Russell Group, put himself forward, saying: "I'm just like you guys. I've taken a hiding and I will make sure you guys are looked after."
Members' names were expected to be posted on the BDO website today.