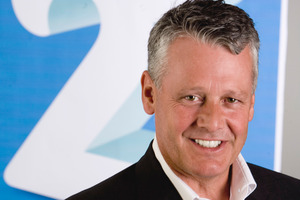 2degrees chairman Stewart Sherriff, who flew into New Zealand from the United States this morning, is taking over as interim chief executive following Eric Hertz's death.
2degrees chief executive Eric Hertz and his wife Katherine were travelling in their twin-engine Beechcraft Baron on Saturday and reported engine trouble before crashing into the sea near Gannet Island.
Their bodies have not yet been recovered despite naval sonar equipment being deployed in the 60m-deep water where the aircraft went down.
Following the news, Chicago-based Sherriff flew into Auckland this morning along with Trilogy International Partners' chief executive Brad Horwitz.
Both met with 2degrees' management team today.
Sherriff has more than 35 years experience in the telecommunications industry and is also senior vice-president of Trilogy, which is 2degrees' majority shareholder.
He previously worked at Western Wireless International, a subsidiary of a Western Wireless Corporation - a mobile network operator active in seven countries.
Sherriff was chief executive of Irish mobile company Meteor from 2003 to 2005 and has worked at mobile companies in Europe, Asia, South America, Africa and the US.
"We have all taken comfort from the comments and heartfelt sympathies from around the world expressed about Eric and Kathy," Sherriff said today.
Horwitz said Hertz was a wireless industry veteran and "brought that experience to bear in the New Zealand market."
"He has built a great team and his passion for excellence and exceeding customer's expectations have been instilled into the entire organization. The board has complete confidence that the 2degrees team will continue to drive change and innovation into the New Zealand market," said Horwitz.