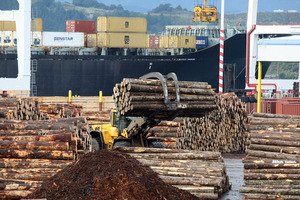 An unexpected trade surplus last month shrank the annual deficit to its smallest since last September, but economists expect the drought to widen it again.
Exports exceeded imports by $414 million or 12 per cent in February, defying market forecasts of a small deficit.
At $3.9 billion, exports were 8 per cent higher than in February last year, underpinned by a 24 per cent rise in dairy exports and a 12 per cent rise in logs. The exchange rate appreciated 4 per cent over the year.
Imports at $3.5 billion were up a more modest 2.5 per cent from a year ago, with consumer goods, cars and oil all higher but imports of capital plant and machinery 5 per cent lower.
The annual deficit was $1.1 billion, the smallest since $900 million in the year to September 2012, as exports fell 4 per cent from the year before while imports were flat.
Oil exports - which offset about a quarter of oil imports - declined the most, 12 per cent, over the past year, followed by exports of manufactured goods, down 6 per cent.
In seasonally adjusted terms the trade balance last month was a surplus of $83 million, compared with a deficit of $311 million in January.
"This improvement may continue for another month or two before the drought begins to weigh on commodity export volumes and as the Canterbury rebuild increasingly adds to demand for imports," said Westpac economist Nathan Penny.
Meat export volumes were 16 per cent higher than in February last year and the highest for any February since 2008.
"With a severe drought gripping the country, and rebuilding work in Canterbury continuing to accelerate, we expect the trade balance to deteriorate significantly over the coming months," said Infometrics economist Benje Patterson.
But sustained signs that commodity prices were recovering fast for key exports such as dairy and forestry were a silver lining, for now, he said.