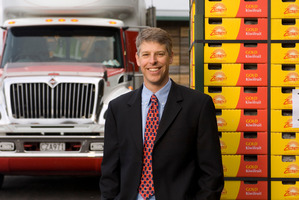 A Chinese subsidiary of kiwifruit exporter Zespri has been found guilty of smuggling and faces having to pay nearly $11 million in fines and reparations.
New Zealand's kiwifruit growers have expressed concern that the conviction will damage the Zespri brand and its important and rapidly growing trade with China.
Zespri Management Consulting Company, a Chinese subsidiary wholly owned by Zespri, was yesterday ordered by a Shanghai court to pay a fine of about $960,000 and make reparations for "illegal gains", which could reach $10 million.
Its employee was sentenced to five years in prison after being found guilty of being an accessory to smuggling general cargo.
Zespri said its China subsidiary and one of its employees had been found guilty of being an accessory to under-declaration of customs duties by Zespri's former independent importers between 2008 and 2010.
The company said it had worked with new import partners for the 2011 and 2012 seasons.
It had pleaded not guilty to the charges at a January court hearing on the basis that its former importer was legally obliged to meet all customs requirements.
"[Zespri] had no intent to facilitate or engage in the evasion of customs duties."
Zespri chief executive Lain Jager said the company was limited in what it could say, as it was still considering whether to appeal against the ruling.
"Obviously we are very disappointed at the verdict. Zespri sells to around 60 countries globally and is committed to complying with local laws in the jurisdictions in which it performs its activities.
"Our first concern is for the welfare of our employee. We will continue to work with his lawyer and family to ensure he is given support.
"The employee's government is also providing consular support to him."
Last night, NZ Kiwifruit Growers Incorporated, which represents New Zealand's 2700 kiwifruit growers, expressed alarm at the verdict and started its own enquiry into the case.
"While these matters are historical it is important that we, as the representative grower organisation, undertake a thorough review of this matter," said chief executive Mike Chapman.
"In Zespri, growers have a stake in a hugely valuable global brand ... growers need to have full confidence in Zespri's activities."
Mr Chapman said growers were concerned that imports and sales of New Zealand kiwifruit are not stopped or slowed down as a result of the court decision.
But Mr Jager said the investigation and trial had not affected China sales, and Zespri did not expect any lasting effect on this year's sales.