Prices slip as swag of companies go ex-dividend and investors take advantage of five-year highs to cash in.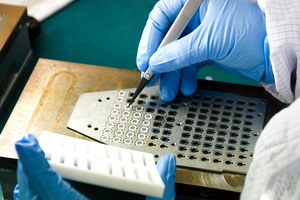 New Zealand shares fell yesterday led by Telecom and Auckland Airport as a swag of companies went ex-dividend and some investors took advantage of shares at five-year highs to lighten their holdings.
The NZX 50 fell 37.61 points, or 0.9 per cent, to 4341.15. Within the index, 30 stocks fell, 12 rose and eight were unchanged.
Turnover was $165 million.
Telecom dropped 6 per cent, or 15c, to $2.295 after shedding its 8c interim dividend and after the phone company announced a change of strategy at its Gen-i Australia unit, eliminating 120 jobs and reducing the focus to large corporate customers with specific transtasman IT requirements. It will take a charge against 2013 earnings.
Auckland Airport, the nation's busiest gateway, fell 4.2 per cent to $2.76. Investors buying the stock yesterday are not entitled to its 5.75c interim dividend.
Among other companies going ex-dividend, NZ Oil & Gas declined 3.8 per cent to 89c, Nuplex Industries slipped 3.2 per cent to $3.37, Trade Me Group dropped 2.3 per cent to $4.74, Steel & Tube declined 2.2 per cent to $2.64, Freightways fell 0.4 per cent to $4.52 and Skellerup slipped 2 per cent to $1.47.
Air New Zealand fell 1.4 per cent to $1.465.
Shares in the United States came off their highs overnight and equity markets were generally weaker across Asia yesterday.
"People are taking some breathing space to reassess their levels, maybe take a bit of profit," said Karl Williscroft, a trader at Direct Broking.
OceanaGold was the biggest gainer, rising 3.9 per cent to $3.22 after announcing the resumption of transport operations from its Didipio gold and copper mine in the Philippines which had been held up by a dispute over its tax status. The company will increase transport capacity to reduce stockpiles at the site.
NZX, the stock exchange operator, rose 2.3 per cent to $1.33 amid strong pre-registrations for the Government's sale of Mighty River Power, the first of the utilities slated for a selldown.
Fletcher Building, the biggest company on the NZX 50, fell 1.8 per cent to $8.94 while Fisher & Paykel Healthcare gained 1.6 per cent to $2.62. Contact Energy declined 1.7 per cent to $5.38.
The electronics component maker Rakon rose 4.8 per cent to 22c, having tumbled 41 per cent this year.
Briscoe Group rose 2.9 per cent to $2.50 and Kathmandu fell 2 per cent to $2.49.