Furniture company outsources production and also teams up with other firms to target overseas markets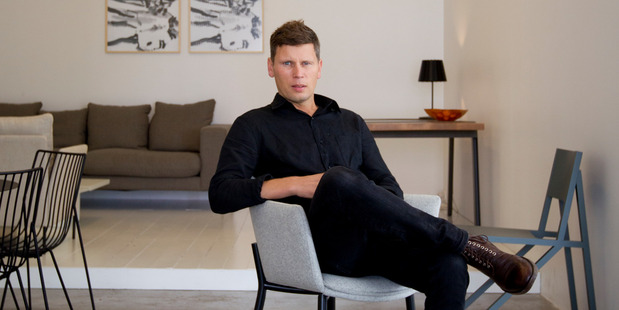 One of the most important things furniture designer Simon James learned from his spatial design degree at AUT University was how designers and manufacturers best work together.
It convinced him on setting up Simon James Design in Auckland 12 years ago to outsource the production side of the business to a network of manufacturers who were good in their particular field.
"Some of the first people we started working with, we are working with now," he says. He estimates his company keeps about 100 manufacturing workers occupied for some of their time.
Simon James' furniture is known for its clean lines, its functionality and longevity. Some is custom-made.
A trestle table in his showroom "is going to look better in 10 to 15 years", James declares.
Nearly three-quarters of the firm's customers are big organisations. They include BNZ, AUT, Victoria University and Air New Zealand.
"We are working with Air New Zealand on the Koru Lounge in Christchurch," he says.
The business has a spacious showroom in Upper Queen St where James sells his own and other designers' furniture, along with lighting.
Simon James Design is just one third of his operation.
"We have set up three parts to the business. The Simon James Design Store, the Simon James Concept Store and Resident."
The concept store is a retail brand which began as a pop-up shop on the ground floor of The Department Store in Takapuna and is still there.
Products in its accessories range are seen as an impulse buy.
"It's helped with our brand," says James, and includes brands such as Alessi, Tom Dixon and local artist Gidon Bing.
James opened a second pop-up Concept Store in Jervois Rd before Christmas which is still going strong.
"We'd like to see it continue. A pop-up shop is a nice way to test the market."
Resident is an export-focussed company that makes chairs and lighting. It was set up in 2011 to champion New Zealand-based manufacturing and to produce "iconic, practical and dependable products".
"We work with a collective of designers and it's more of an export brand," says James. As well as Simon James, Resident showcases the work of designers Jamie McLellan, Phil Cuttance and ceramicist Gidon Bing to retailers in cities including New York, London and Shanghai.
James runs Resident with managing director Scott Bridgens, a co-shareholder, and another investor. Bridgens is a logistics specialist who worked with UK design guru Tom Dixon of Habitat fame. He has set up warehouses for the business in Auckland and London.
"Logistics is the first obstacle for someone trying to export. We are trying to get the product as close as possible to the market," says James.
"If someone wants a product, we can deliver it anywhere in a matter of days rather than the weeks and months that have become more common."
Resident is exporting to eight countries and expects that to double in months.
The three businesses turn over less than $5 million and the Simon James operations employ 14 staff. James says sales have grown 40 per cent in the past 12 months thanks to more corporate work.