Lindsay Wright says joining the board of the New Zealand Superannuation Fund is a great opportunity to give something back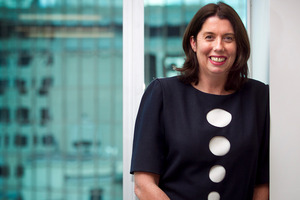 Lindsay Wright says the downside of living in China is the pollution but the opportunity to work in the world's fastest growing economy is what gets her excited.
The Kiwi from Kerikeri, who is married to former All Black Terry Wright, moved to Beijing in 2010 to work for Harvest Fund Management - China's second largest asset manager - and now she's hoping to help guide New Zealand's retirement savings' investment in Asia.
Wright was appointed at the end of last year to the board of the New Zealand Superannuation Fund - a pool of money set up to help smooth retirement costs of the baby-boomer generation.
The $20 billion fund had just 5.4 per cent of its assets invested in Asia, excluding Japan, as of June last year, although that had grown from 3.2 per cent in 2009.
The investment in Asia is low compared with the fund's North American stake which was at 35.5 per cent in June last year.
While Wright says she won't be able to actively encourage more investment into China because the fund must follow stipulated asset allocation guidelines, she hopes to add in-put and insight to relationships in Asia.
Wright is no stranger to doing big deals in China.
She was in charge of Deutsche Asset Management's 30 per cent investment into Harvest in 2005. She then took up a seat on the company's board.
When Harvest approached her to head up its alternatives investment group she jumped at the chance to move from Deutsche's New York head office to Beijing.
"Having been in New York through the [global financial] crisis, coming back to Asia was quite attractive."
It was an area where growth was still full steam ahead versus the negative situation in America.
Harvest has 600 employees and manages US$40 billion of assets.
Wright says she is just one of two non-Asians at the company although many of her colleagues speak English because they have been educated in America. But she isn't daunted by the situation.
"When we are sitting there you wouldn't think we were in China."
It's not the first time she has worked in an Asian country. Since leaving New Zealand 12 years ago Wright has worked in Tokyo and Singapore as well as Sydney and New York.
"Each of the opportunities were fantastic."
She was asked to put her name forward for the Super Fund role and says she felt honoured to be asked.
"It's a great opportunity to give something back. When you live out of the country it's quite hard to contribute."
Her new role means she will be back in New Zealand every two months for the first year at least.
Wright says the support of her husband is what has allowed her to balance her corporate roles with family life - her two children attend an international school in Hong Kong.
Wright says it is swings and roundabouts. She didn't go overseas straight after university like many of her friends because she was supporting Terry's All Black career.
"Terry was still involved in rugby." It wasn't until 2001 they moved to Sydney - just four weeks after the birth of their son James - a task she admits wasn't very easy. Their daughter Alexandra was born in Tokyo.
The financial services industry is typically seen as quite male-dominated but Wright says there are more women in asset management than on the banking side and she thrives on the challenge of building and developing something.
"I find it very rewarding."
And building something in China - the world's fastest growing economy - is even more fantastic, she says.
She is not concerned by the high levels of state-ownership in corporates or the lower levels of regulation.
"Most have some state connection."
Harvest itself is 40 per cent owned by the China Credit Trust - a state-owned trust. Wright says there is a high level of professionalism in the industry.
"The rules in relation to say the SEC [America's securities regulator] are nowhere near as developed," she says.
"But this industry is extremely professionally run - there are more people with PhDs at Harvest than we have in companies in Western countries."
While Wright is in charge of developing new investment products for Harvest she says she won't be targeting New Zealand because it is too small.
Despite concerns about Chinese investment in New Zealand in recent years, Wright says overseas investment by retail Chinese investors is actually quite low and many have been put off foreign investment by the global financial crisis.
"When you look at investors generally in China, the amount of foreign investment they do is extremely limited."
It wasn't until 2007 that retail Chinese investors were allowed to invest outside the country and that was the worst possible time to be doing so since it coincided with the start of the global financial crisis.
"When you talk to a lot of retail investors they call it QD [qualified domestic] and say QD is bad."
It was only last year that Chinese insurance companies were allowed to invest overseas.
"So when people talk about the Chinese investment [outside of China] generally speaking it is very, very low."
Equally, she says, there is not much foreign investment in China.
She says New Zealand has a lot to offer China particularly on the dairy front following China's melamine scares.
China has a significant population and its wealth is rapidly increasing, pushing a desire to travel and gain a better education.
"It's a huge opportunity and we should take advantage of it."
She is certainly making the most of the opportunities there, but says she likes to think she will come back to New Zealand some day.
"I think all New Zealanders think they are coming back. The question is when? That's always the $50 million question."
Wright is not sure when she will return but says being on the board of the super fund creates a stronger connection to her home country.
Lindsay Wright
*Appointed in December to the board of the Guardians of New Zealand Superannuation, the crown entity which manages the $20 billion fund.
*Chief executive of Harvest Alternatives Investment Group - the alternative investment arm of Harvest Fund Management - China's second largest asset manager.
*Before joining Harvest Fund Management she was managing director and global head of strategy and business development for Deutsche Asset Management.
*Educated at Auckland University and has a Bachelor of Commerce degree.
*Married to former All Black Terry Wright and has two children.