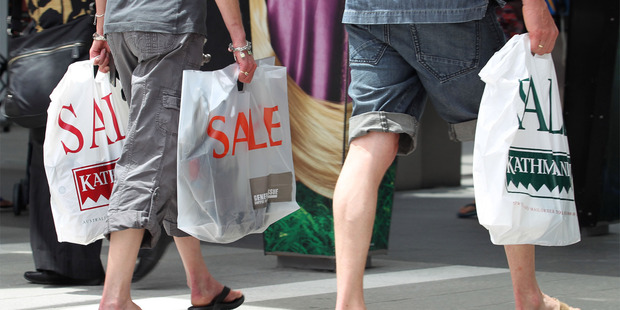 New Zealand retail sales recorded the fastest growth in six years in the fourth quarter, adding to signs of a rebound in consumer spending and sentiment, and sending the trade-weighted index to a post-float high.
The total volume of retail sales rose 2.1 percent, seasonally adjusted, in the final three months of 2012 and rose 2.9 percent from the same period a year earlier, according to Statistics New Zealand.
Quarterly sales beat economist estimates of 1.4 percent growth.
The trade-weighted index jumped to as much as 77.43 after the report was released, from 76.90 immediately before. That's the highest since the kiwi dollar was allowed to trade freely in 1985. The currency rose to 85.33 US cents, the highest since September 2011. Two-year swaps jumped 6 basis points to 3.05 percent.
The data follows a survey yesterday showing consumer confidence rose to a 32-month high this month in the face of low interest rates and rising house prices. Retail sales have continued to grow this year, with electronic card transactions rising for a fourth straight month in January.
"There's pretty consistent evidence that activity picked up in late 2012 in a number of areas," said Michael Gordon, economist at Westpac Bank. "People are taking a bit more notice of the relative growth story for New Zealand. We stack up well to the likes of the US and Europe and even with Australia there's a bit of a gap opening up."
Twelve of the 15 retail industries measured recorded gains in the fourth quarter, led by a 7.7 percent increase in fuel retailing. Hardware, building and garden supplies rose 4.3 percent, which the government statistician said reflected stronger-than usual demand in Christchurch.
Motor vehicle and parts were up 2 percent and department store sales climbed 4.5 percent.
Excluding vehicle-related industries, the volume of core retail sales rose 1.5 percent.