Intervening in foreign exchange market on a large scale like being 'out in a war zone with a pea-shooter'.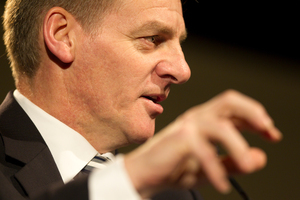 New Zealand would be "out in a war zone with a pea-shooter" if it intervened on a large scale in the foreign exchange market, says Finance Minister Bill English.
Speaking to reporters after appearing before Parliament's finance and expenditure select committee yesterday, English said the Government was not prepared to take the huge risks involved in large-scale speculation on the exchange rate with taxpayer dollars.
"Some countries are, like Switzerland, building up a huge position on their exchange rate and their taxpayers will take a bath if it goes wrong," English said.
"We are just not prepared to take that kind of risk. We are a small country."
Intervention by the Swiss National Bank since September 2011 to defend an exchange rate of 1.20 Swiss francs against the euro has seen its holdings of foreign exchange expand to the equivalent of three-quarters of Swiss gross domestic product.
Scaled down to New Zealand size that would be about $150 billion.
English said those advocating a lower dollar had to demonstrate there was a way to choose what the exchange rate should be and how to keep it there without significant cost to the rest of the community.
"International experience is that is difficult, if not impossible."
He had raised hackles among Opposition MPs, who are running an inquiry into the manufacturing sector, by saying: "What they are telling you is that they want to cut the real wages of their workers, because that is the other side of the equation. No one is sticking up for the workers in this debate, because the exchange rate underpins their living standards."
English had been pressed by Greens co-leader Russel Norman: "Most of our trading partners are lowering the value of their currency using unorthodox mechanisms like quantitative easing or whatever. And the result is our currency is overvalued, which is having a dramatic effect on the tradeables sector ... It is being devastated. That's what manufacturers are telling us."
English said there was nothing New Zealand could do to affect the monetary policies being run by much bigger economies with much bigger economic problems.
He also questioned the exit strategy for the unorthodox measures being undertaken.
"They are getting well down a road that no one has ever been down and they have no idea how to get back. And that is going to be the challenge of the next few years in most developed countries."
Norman cited a recent speech by the outgoing chairman of Britain's Financial Services Authority, Lord Turner, in which he argued that printing money to finance the government deficit should not be taboo just because 99 years out of 100 it was a very bad idea.
English said that Britain, like Japan, regarded itself as being in extreme circumstances.
"They are patients in an emergency room and New Zealand by comparison is out training for a triathlon."
To Norman's suggestion that the economy faces a "nasty hard landing" when rising interest rates trigger a downturn in house prices, English said interest rates would rise at some stage.
"And that may well be a good thing. There are people arguing right now that the fact that savings rates are flattening out and house prices are rising tells you interest rates are too low and why doesn't the Reserve Bank governor get on with lifting them? Manufacturers would probably disagree with that."
Norman accused English of failing in a key task the Government had set itself on taking office, that of rebalancing the economy, citing forecasts of a deteriorating current account deficit.
English said some of the deterioration was a one-off, the result of the need to rebuild Christchurch. Some was the result of a normal and desirable cyclical pick-up in investment during recovery from recession.
But the long-run drivers of a better current account position would have to be improved savings behaviour by New Zealanders and improved competitiveness relative to the rest of the world.