Trespass notice foils contractor's attempt to seize his own property.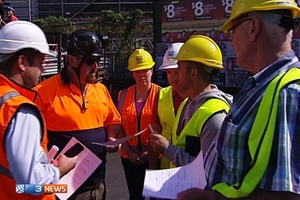 A mainzeal contractor has been issued with a trespass order after trying to remove $1 million worth of equipment from an apartment building yesterday morning.
Police were called when Camelspace co-owner Phil McConchie and more than two dozen of his staff arrived at the central Auckland building, Hobson Gardens, at 5am and began removing scaffolding.
They had erected it to allow the leaky building to be repaired by Mainzeal.
The construction company went into receivership on Thursday, halting work at the site and many others around the country. Security guards have been posted at work sites, including Hobson Gardens.
A police officer at the scene initially told the Herald on Sunday they were there on a "peacekeeping exercise" and no criminal activity was taking place.
But later in the morning police were forced to issue a trespass order on behalf of the building's owners, named on the order as Body Corp 177519.
While individual apartments are owned, a body corporate runs the building and there is an owners' committee. No one from that committee could be contacted yesterday.
McConchie said he had twice written to Mainzeal receivers PricewaterhouseCoopers telling them he intended to remove his equipment, but he had not heard back.
The company was owed an estimated $300,000 by Mainzeal and every day the equipment remained on site they lost more money, McConchie said.
"We need to get this equipment out and erected for construction companies that can pay their bills to ensure the survival of the company and secure the livelihoods of our 40 staff and their families."
However, the trespass notice stymied his plans and most of the gear stayed put.
PricewaterhouseCoopers spokeswoman Karine Fox said the receivers were working with Camelspace and the building owner to find a solution that would be safe for the residents.
Shocked residents gathered outside yesterday to watch the latest "sad" development.
Watching the scaffolding being removed, Robert and Wendy Srhoj, who are renting nearby while their apartment is being fixed, could only reflect on how close they had come to having their ground floor apartment repaired after nine years of fighting.
"In four to six weeks they would have completed everything ... it's just heartbreak after heartbreak," Srhoj said.
"Seeing the scaffolding removed, this is a day we'd been looking forward to. It's a sad day when it should have been the happiest."