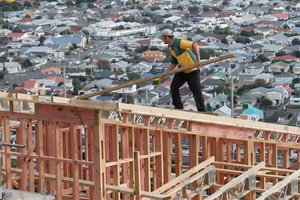 Employment growth is moderate and wage inflation subdued, payrolls data for the December quarter suggest.
Statistics New Zealand's quarterly employment survey (QES) recorded growth of 0.4 per cent in both filled jobs and full-time equivalent employees (which counts a part-time worker as half a full-timer). In both cases the increase is in line with the average over the previous four quarters.
Paid hours increased at a slightly faster clip, 0.6 per cent in the quarter - making a 1.9 per cent increase for the year or 0.3 per cent on average per worker.
Westpac economist Felix Delbruck said that in line with the swathe of other recent signs of improvement in the economy it showed the labour market picking up from a weak September quarter.
"However, momentum continues to lag behind our estimates of overall economic growth, suggesting that businesses remain reluctant to take on new staff."
Deutsche Bank chief economist Darren Gibbs said the QES results added some weight to market expectations that tomorrow's jobs report - based on a survey of households rather than firms - would show at least a modest increase in employment, after falling 0.4 per cent in the September quarter.
Gibbs expects the unemployment rate to drop to 7.1 per cent from the surprisingly weak 7.3 per cent recorded in September.
Meanwhile the labour cost index (LCI), also released yesterday, recorded a rise of 0.5 per cent in private sector salary and ordinary-time wage rates for the December quarter - unchanged from the previous three quarters.
The LCI is a proxy for unit labour costs as it excludes increases in pay rates due to productivity. The unadjusted measure, which leaves them in, rose 0.9 per cent in the quarter and 3.3 per cent over the year.
Only 54 per cent of private sector pay rates increased over the past year. Among those which did, the average increase was 3.9 per cent (the smallest annual increase for a year). The median annual rise has been steady at 3 per cent for the past two years.
Construction pay rates in Canterbury rose 3.9 per cent last year, compared with 2.3 per cent for that sector in the country as a whole.
ANZ economist Mark Smith said the Reserve Bank had made it clear it was watching the construction sector in particular for signs of inflation that might feed through into broader inflationary pressure in the economy.
The high dollar appeared to be playing a role in capping overall wage inflation, by limiting increases in the cost of living.
Gibbs said that annual labour cost growth had stabilised at about 2 per cent, a rate that would pose no concerns for the Reserve Bank.
"Given the usual lags, labour cost inflation is likely to remain very subdued over the coming year, even given a modest strengthening in the economy," he said.