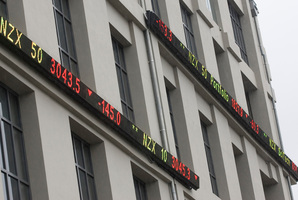 New Zealand shares fell as a rally that has pushed the NZX 50 index to near a five-year high faltered on concern the gains have left some equities fully valued. Telecom paced the decline and Xero dipped.
The NZX 50 fell 7.328 points, or 0.2 per cent, to 4075.038. Within the index, 18 stocks fell, 20 rose and 12 were unchanged. Turnover was $70.1 million.
Telecom fell 1.4 per cent to $2.18. The shares are rated "underperform" based on the consensus of 10 recommendations compiled by Reuters, with a median price target of $2.23. Xero, the cloud-based accounting service that has soared 171 per cent in a year, dropped 1.1 per cent to $7.40.
"Investors need to be a little bit careful - on fundamentals some stocks look fully priced," said Grant Williamson, a director at Hamilton Hindin Greene. "It will be interesting as we go into February and get earnings season under way to see how those companies are performing."
Those that are not over-valued include Chorus, the network company spun off from Telecom in 2011, whose shares tumbled last month on the threat of increased control of its prices from the regulator.
Its shares fell 2 per cent to $2.91 yesterday and have dropped 14 per cent in the past month.
Contact Energy rose 0.8 per cent to $5.32. Potential listing of state-owned power companies this year has seen the stock marked down.
Fletcher Building rose 0.2 per cent to $8.48. The company has sought clearance to sell its CSP Coating galvanised steel unit to Hamilton-based Perry Group as it looks to replace some of its treated metal products with imports.
Skellerup Holdings rose 3.1 per cent to $1.67 and has gained 19 per cent in the past 12 months. Tourism Holdings, the campervan company, jumped 9.2 per cent to 71c. SkyCity Entertainment, the casino and hotel company, fell 1.1 per cent to $3.75. It is up 9.2 per cent in the past six months.
Fisher & Paykel Healthcare, which gets more than 50 per cent of its sales in US dollars, fell 2 per cent to $2.41. Goodman Fielder, the Australian food manufacturer, fell 2.5 per cent to 78c.
Mainfreight, the transport and logistics company, rose 0.9 per cent to $11.81 and Pumpkin Patch fell 1.5 per cent to $1.33.