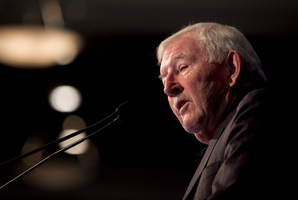 Guinness Peat Group, the investment firm liquidating its asset portfolio, has realised around £18.7 million ($36.4 million) in the latest grab-bag of sales.
The firm, founded by Ron Brierley, reaped £8.8 million from the sale of wholly-owned subsidiary Gosford Quarry Holdings and will keep the unit's Sydney property, which has redevelopment potential, for a later disposal. The firm has also exited stakes in Metals X, GME Resources, Nationwide Accident Repair Services, Sysmedia Group and Touch Holdings for total cash proceeds of £9.9 million. The Touch sale excludes loan repayments and has the potential for earnouts in 2014, GPG said.
GPG has been selling assets in a plan to return capital to shareholders, and ultimately aims to rebrand itself as its biggest asset, UK threadmaker Coats.
The shares were unchanged at 59.5c on Monday, having gained 3.5 per cent through 2012.