Bitter reaction to Emerson's purchase dismissed as hiccup as industry changes gear.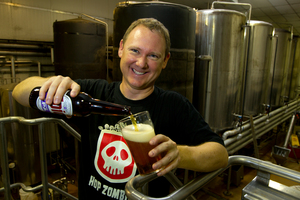 For some beer aficionados, Lion's acquisition of Dunedin independent brewer Emerson's was beyond the pale ale.
Complainants took to Twitter and Facebook to express their distaste for the deal announced in November and bars in the capital even went as far as saying they would stop stocking Emerson's products following the craft brand's sale - for an undisclosed sum - to the Auckland-based, Japanese-owned brewing giant.
Whatever your opinion, the reality is that more consolidation is likely to take place in this country's craft beer industry.
The big brewers know all too well that consumers' tastes are changing as they opt to drink smaller amounts of higher quality, more flavoursome beer.
Just a few months before the Emerson's purchase, Lion acquired Aussie craft brewer Little World Beverages for around A$380 million ($477 million).
While the managing director of Lion's New Zealand operations, Rory Glass, says his firm doesn't have any more craft acquisitions planned, the other big local brewers - DB Breweries and Independent Liquor - are eyeing up the market.
DB Breweries managing director Brian Blake says the possibility of boutique beer brand acquisitions is part of an overall review the company is conducting to establish how it can play "a significant role in the craft market".
"Our focus has very much been on the redevelopment of [existing brand] Monteith's, quite frankly, but that craft market is growing so I think everyone is looking at where the opportunities are," says Blake, who will step down from the managing director role early next year.
"We're doing a lot of work on craft beer at present."
Take a walk down any Auckland supermarket aisle and you'll see the explosion in boutique brands that has taken place over the past few years.
More mainstream drops have been pushed aside to make way for up-and-coming craft labels.
The number of small breweries - under 40,000l annual production - doubled from 15 to 30 in the four years to the end of 2011, while the total number of breweries went from 48 to 68, according to a survey by the Brewers Guild, an industry group representing craft firms.
Julian Davidson, chief executive of Independent Liquor, operator of the Boundary Road Brewery, says the company is looking closely at the craft beer market.
He points out that Independent Liquor is only 25 years old, much younger than its larger competitors DB and Lion.
"[Our competitors] have had a lot of time to build some absolutely wonderful brands - we haven't had so much time," Davidson says. "For us, acquisitions of really interesting brands could be an appropriate way for us to catch up for lost time."
He says that as well as acquisitions, the big brewers are likely to strike up distribution deals with boutique players.
"I think there will be opportunities for craft brewers to stay true to their small operations, but still get the best of both worlds with a big guy helping them out [through distribution deals]."
Brewers Guild president Ralph Bungard, who runs Christchurch's Three Boys Brewery, says there are positive aspects to acquisitions.
"To be honest, for some of the brewers this is their livelihood and like any business, even though they're passionate about it, if someone comes along and makes you an offer you can't refuse then you can't refuse it.
"Emerson's has been bought out by Lion but at least that means I can go into a Lion bar somewhere in the country and get a quality craft beer I'd like to drink."
Luke Nicholas, founder of Auckland-based craft brand Epic, says the negative reaction to Lion's Emerson's purchase was "very immature".
"I think it was just a vocal minority that got upset about it because so what if a dozen [bars] take Emerson's off tap?" he asks. "Now, with the reach of Lion, they can put Emerson's on two or three hundred taps."
Nicholas says some in the industry don't understand what it means to be acquired and become a bigger player. He goes as far as saying acquisitions are "amazing" for the craft brewing industry.
"Obviously craft beer has come of age," he says. "Craft brewing's now viable."
Glass, Lion's boss, says he wasn't surprised by the reaction to his firm's purchase of Emerson's.
"We expected lots of commentary," he says. "When you play in the craft beer area you deal with lots of passionate beer lovers, which is what's nice about it."
Glass says Lion was also prepared for much speculation on the craft brand's future.
"But for us it would be nonsensical to buy a brand like Emerson's and make any changes to it."
Founder Richard Emerson and his team are staying on with the firm post-acquisition.
"From our perspective it would be crazy to mess with what's made [Emerson's] so successful - it would destroy the value and the proposition," says Glass. "We very much need to recognise the fact that they've been successful - and let them go on and ... do more of the things they're so good at doing."
Growing market
Small Breweries (less than 40,000l annual production):
2007: 15
2011: 30
Total craft breweries:
2007: 48
2011: 68.