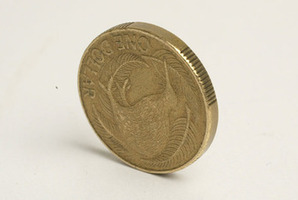 The New Zealand dollar fell against the yen after the Bank of Japan added to its monetary easing though not enough to weaken its currency appreciably while markets remain subdued in the wake of Sandy and ahead of US presidential elections.
The kiwi dollar bought 65.32yen from 65.45 yen at 5pm in Wellington yesterday. The local currency traded at 82.07 US cents from 82.01 cents.
The yen rose against most of its trading peers after the BOJ expanded its asset-purchase program by 11 trillion yen to 66 trillion yen, about meeting expectations. The kiwi didn't get much overnight direction from equity markets, typically correlated with the currency because they're both growth assets, as Wall Street remained closed as New York was buffeted by the storm, which left at least 10 people dead in the US.
"The BOJ stuck to the script - doing just enough to placate the government but no more," said Mike Jones, currency strategist at Bank of New Zealand.
The BOJ "continues to disappoint investors looking for a bazooka approach such as the Fed is using."
Traders will be looking at September residential building consents figures, out today, which may confirm rebuilding in Christchurch is getting underway in earnest, which would be a positive for sentiment on the kiwi dollar. Jones said BNZ is expecting a monthly lift of 5 per cent.
"Markets are treading water as we wait for the US election (on Nov. 6)," Jones said.
The trade weighted index fell to 73.18 from 73.30 and the kiwi dollar weakened to 79.11 Australian cents from 79.29 cents.
The currency fell to 63.31 euro cents from 63.51 cents after better-than-expected earnings from Deutsche Bank, UBS and BP and an Italian 7 billion euro bond sale that drew solid demand.
The kiwi dollar traded at 51.06 British pence from 51.14 pence yesterday.