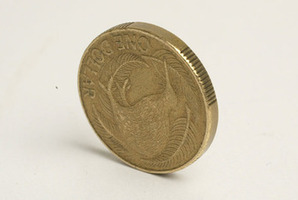 The New Zealand dollar followed US stock markets lower after internet search engine Google missed profit estimates and mixed US data eroded investors' appetite for higher-yielding, or riskier, assets.
The kiwi dollar fell to 81.84 US cents after the Google news from 82.02 cents immediately before the announcement and was down from 82.09 cents yesterday at 5pm. The trade-weighted index decreased to 72.84 from 72.93 yesterday.
US corporate earnings continued to set the tone for investors with the Standard & Poor's 500 index falling 0.5 per cent in late trading after Google reported third-quarter profit and sales that missed analysts' estimates. Google's shares were halted after the results were released ahead of time, having shed 8.9 per cent to US$687.92.
"The Australian dollar got hit even harder than the kiwi from a risk perspective," said Stuart Ive, currency strategist at HiFX. "The New Zealand dollars movement today depends on what happened with the Google announcement with support around 81.50 US cents and resistance at 82.30 cents."
Mixed US data also weighed on investor sentiment after more Americans filled for jobless claims than forecast, while separately the Conference Board's gauge of the outlook for the next three to six months increased 0.6 per cent in September after a revised 0.4 per cent drop in August.
The New Zealand dollar was little changed on 62.71 euro cents from 62.73 as European Union leaders gathered in Brussels for a two-day summit.
Indebted nation Spain drew strong demand for its debt auction after Moody's Investors Service this week affirmed the nation's investment grade credit rating at Baa3. The yield on Spain's benchmark 10-year bonds fell to a six-month low 5.332 per cent after the country sold 4.61 billion euros of securities due in 2015, 2016 and 2022.
New Zealand's international travel and migration for September will be released by Statistics New Zealand.
The New Zealand dollar rose to 50.97 British pence from 50.89 pence at 5pm yesterday. The kiwi fell to 78.94 Australian cents from 79.04 cents and slipped to 64.87 yen from 64.97 yen.