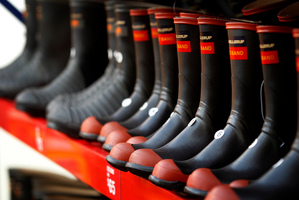 Answers lie in efficiency gains and innovation, says Skellerup chief executive
Just as manufacturing looks set to enter the political spotlight, Skellerup chief executive David Mair says the answers to problems lie not with Government policy but within the sector itself.
The Labour Party, the Green Party and NZ First today announced a parliamentary inquiry into manufacturing after a series of high-profile job cuts, but Mair doubts the solutions to the sector's problems are external.
As a process engineer for Japan's Matsushita Electric - the company behind the Panasonic and National brands - from 1981 to 1992, he has great respect for that country's manufacturing ethos.
Since Matsushita, he has played a big part in a number of corporates, some of which have been turnarounds.
Skellerup, which makes specialised rubber products and pumps for the agriculture and mining sectors, put in one of the better performances of the latest reporting season, despite an unfriendly exchange rate and difficult market conditions.
Mair says he does not see solutions in tinkering with the exchange rate, or in New Zealand's own version of quantitative easing, as put forward by the Greens.
Likewise, he is not a big fan of the Government's $10.80 an hour starting minimum wage for teenagers.
"The answer lies more in efficiency gains and in innovation, and paying $10.80 hour is not going to lead to any great advantages for anyone," Mair says.
"A lot of us are facing headwinds from the high New Zealand dollar, plus the uncertainty in markets, but if you take a medium-term view there will always be volatility in the markets.
"One of the things that a strong currency does when it goes against you is that it sharpens your thinking as to what is core and what isn't."
Mair does not see wages as an issue.
"We are not a high labour cost country and certain process are not high in labour content, either.
"So the idea that you can send your manufacturing processes to China in order to make more money is naive."
He talks of the need for manufacturers to control their end markets and of New Zealand companies often being at fault for not achieving an adequate return from the capital employed.
Manufacturers are also guilty at times of holding a high level of inventory relative to sales.
Referring back to his Japanese experience, he says manufacturers there managed to weather periods of currency strength by continuing to get costs out.
"There is no quick fix that the Government can provide, but I think that what New Zealand manufacturing needs to focus on is not low-cost manufacturing, but learning how to adopt a low-cost strategy.
"All New Zealand businesses need a low-cost strategy but it may or may not involve low cost manufacturing or sourcing." he says.
There is a need to control low-cost products in markets.
"So, a low-cost strategy often involves running two brands competing with each other but owned by the same company to block out low-cost entrants."
Manufacturing typically involves large numbers of waged people, so there are often more labour issues than in other businesses.
"What you have to do is get their collective wisdom working every day to improve the business," Mair says.
"In America they rely on the brains of the bosses. In Japan they harness the collective wisdom of all the employees. We need to do the same."
- APNZ
- APNZ