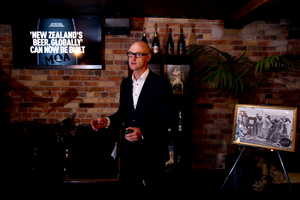 Craft beer maker Moa Group will debut on the NZX on November 13 with a market capitalisation of about $38 million.
The share price has been set at $1.25 after a successful auction-style book building process aimed at institutional investors and NZX firms was conducted this week, raising $15 million.
Moa said 12.8 million shares will be offered to the public.
The offer received strong support from brokers and a range of institutional investors, it said.
Moa's owners include the Business Bakery - which is part-owned by Moa chief executive Geoff Ross - Pioneer Capital and Allan Scott Wines.
Post-float, the Business Bakery's ownership will go from 39.6 per cent to 22.8 per cent.
Pioneer's ownership will go from 42.6 per cent to 24.5 per cent and Allan Scott Wines' will fall from 13.5 per cent to 7.8 per cent. New investors will end up with about 39 per cent of the company.
Ross, who co-founded 42 Below and who is chairman of the listed fragrance and skincare company Ecoya, said the response to Moa from retail brokers and a range of institutions was stronger than that shown for 42 Below and Ecoya.
Moa is New Zealand's first locally listed brewery since 2009 when Lion departed the bourse after being bought by Japanese brewer Kirin.
Moa plans to use the funds to build a bigger brewery and support increased working capital and marketing activities. The company plans to focus on the New Zealand, United States and Australian markets.
- APNZ