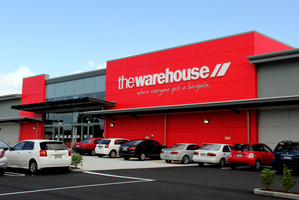 Investors said to be buying yield stocks as money is moved from banks to equities Warehouse Group shares rose by 3 per cent. New Zealand shares rose to a fresh 4-year high yesterday as investors were drawn to stocks with relatively appealing dividend yields.
The gainers were paced by the Warehouse Group, and electricity companies TrustPower and Contact Energy.
The NZX 50 Index rose 19.05 points, or 0.45 per cent, to 3923.90.
Within the index, 30 stocks rose, 7 fell and 13 were unchanged. Turnover was about $90 million.
"We are seeing continued buying in the yield stocks as investors move money from banks to equities - investors are trying to build income," said Grant Williamson, director at Hamilton Hindin Greene.
"There is a fair degree of confidence in the local market and it is pushing prices higher."
The gainers were led by Warehouse Group, New Zealand's biggest listed retailer, up 3 per cent to $3.09.
TrustPower, the utility controlled by Infratil, increased 2.8 per cent to $8.35.
Infratil head shares rose 1.4 per cent to $2.20.
Contact Energy, New Zealand's largest listed electricity retailer, gained 2.4 per cent to $5.47.
Freightways, the courier and data management group, rose 1.6 per cent to $4.38.
Mainfreight, the international freight firm, gained 1.5 per cent to $10.56.
Fletcher Building, New Zealand's largest listed construction company, rose 0.13 per cent to $7.48.
Telecom, the biggest company on the exchange, was unchanged at $2.38.
Shares in cloud-accounting provider Xero were unchanged at $5.35 after the Wellington-based company released its prospectus for a dual-listing on the ASX.
The decline was led by Michael Hill International, New Zealand's only listed jewellery maker, shedding 1.6 per cent to $1.21.
Air New Zealand, the airline slated for a government sell down, slipped 1.5 per cent to $1.25.