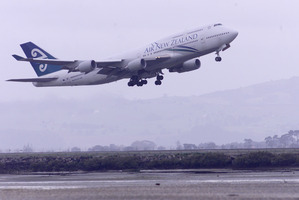 Domestic and international air travellers will be hit in the pocket as the aviation industry boosts funding for the Civil Aviation Authority.
Transport Minister Gerry Brownlee today announced an extra $14.1 million over the next three years will be going to the CAA, paid for by commercial aircraft operators, passengers and pilots.
An Air New Zealand spokesman told APNZ air fares would jump accordingly.
"The money will come from airline passengers," he said.
Jetstar could not be reached for comment.
Domestic travellers levies will increase from $1.78 to $1.97 by 2015 and international levies will increase from 89 cents to $1.50.
The new funding framework will affect all civil aviation fees, charges and levies and will come into effect on November 1.
Mr Brownlee said the increase in funding would ensure the CAA had sufficient revenue to fund its ongoing operations and continue to improve its services and air safety.
CAA chairman Nigel Gould said the increased fees, charges and levies should come as no surprise as the CAA had been discussing them with the aviation community since 2010.
He said the authority had attempted to minimise the cost impact by making savings and phasing in some changes over a couple of years.
CAA chief executive Graeme Harris many fees and charges had not been increased since 1997.
"The aviation industry has changed a lot since then, as have our costs and the job we are required to do."
- APNZ